Sky News has pulled down their investigative story that had identified the man who fell off a Kenyan airways flight into a garden in London as Paul Manyasi.
The story which was titled "Plane stowaway: Who was Kenyan man who fell from the sky" could not be found.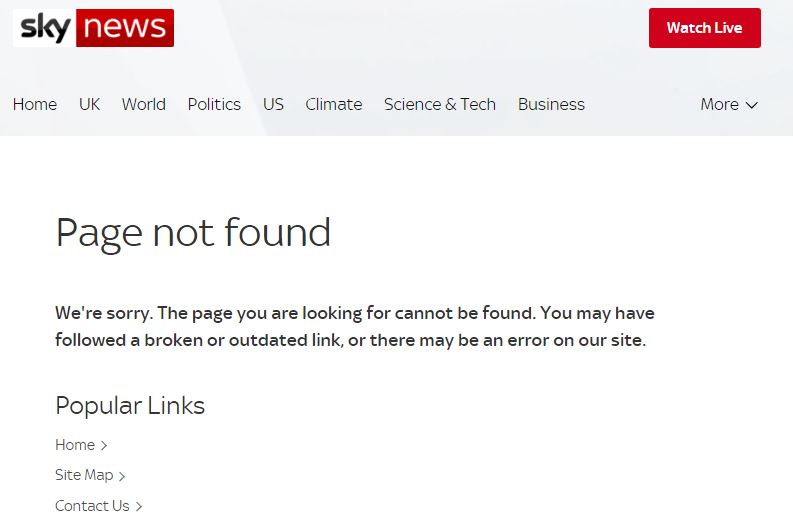 When you click the link that is quite visible when you google, it takes you to a page not found on the website.
"We're sorry. The page you are looking for cannot be found. You may have followed a broken or outdated link, or there may be an error on our site," the message reads.
The pulling down of the stories comes days after local media began poking holes into the Sky news story.
Last week, The Star reported that the man whos pictures were used was not that of Manyasi as alleged.
This was after a Facebook profile of 'Cedric Junior' emerged with photos that were used by Sky News to identify Manyasi as the stowaway.
In yet another twist, the parents of Paul Manyasi according to Sky News are Isaac and Janet Manyasi.
Issac who appeared on a story by Sky News confirming the identity of the stowaway changed his narrative.
But on being asked about it by KTN News, Issac said that his son, who he called Cedric, was alive and in Nairobi.
On Thursday, Daily Nation also wrote a contradicting piece claiming that the man in the photo, Isaac Shivonje is a remandee at the Kamiti Maximum Prison.
Their interview revealed that his father had lied to Sky News about his son's whereabouts.
Meanwhile, the identity of the stowaway remains a mystery.
(Visited 3 times, 1 visits today)
Subscribe to our Youtube Channel :
Follow our Instagram