Just few hours after the day for the presidential elections case ruling has been known to the public, High Court Registrar Agnes Patemba has promised tight security at the High court in Lilongwe during judgment delivery.
In a press statement made available to Face of Malawi reporter, Patemba has said the public will not be allowed within a 150 perimeter fence of the court premises.
According to Patemba, only those with access cards will be allowed to enter into the premises of the court where delivery of the verdict will be taking place.
Accredited public media house will also be allowed to broadcast live the judgment, according to the statement in order to feed those who will not be allowed entry with information.
United Transformation Movement (UTM) President Saulos Chilima and Malawi Congress Party (MCP) leader Lazarus Chakwera are the first and second petitioners respectively seeking nullification of the presidential results.
On May 21, 2020 the electoral body, Malawi Electoral Commission (MEC), (second respondent) declared President Peter Mutharika (first respondent) winner of the disputed elections.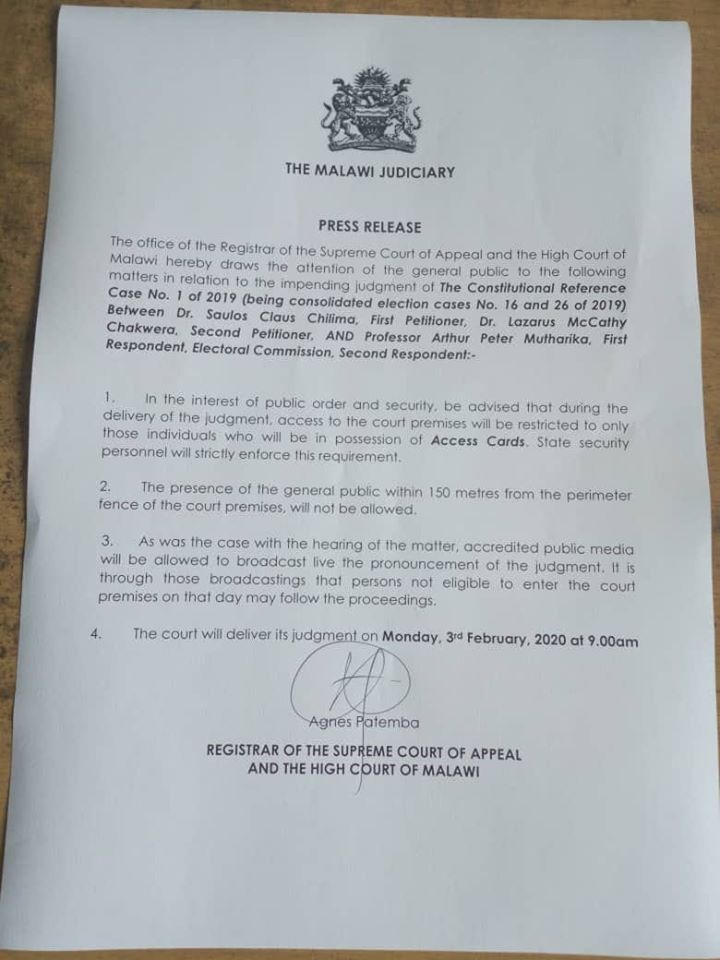 (Visited 4 times, 1 visits today)
Subscribe to our Youtube Channel :