Two Nigerian filmmakers face the prospect of imprisonment if they ignore the stern warning of the authorities and proceed with the release of a movie about a lesbian relationship.
The dramatic face-off with the regulators – the Nigerian Film and Video Censors Board (NFVCB) – is worthy of a film itself.
Producer Pamela Adie and director Uyaiedu Ikpe-Etim are determined that Ife (meaning "love" in the Yoruba language) reaches a Nigerian audience, but the NFVCB says it will not be approved as it violates the country's strict laws on homosexuality.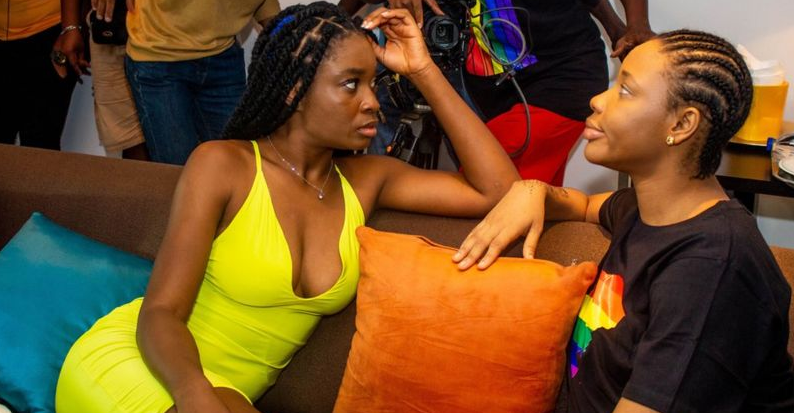 Adie said the aim of the film was to show an accurate picture of lesbian and bisexual women in Nigerian movies.
If a lesbian woman does appear in a standard Nollywood movie they are often portrayed as being possessed, influenced by bad friends or forced into homosexuality and always needing "saving", she told the BBC.
"You rarely see stories about LGBT people, especially about queer women that speak to the realities of our lives.
"Ife was made to bridge the gap and to get the conversation going in Nigeria."
Ife is a story about two women falling in love as they spend three days together.
They "then have their love tested by the realities of being in a same-sex relationship in a country like Nigeria", according to the publicity for the film.
If July's trailer, where sex is hinted at but not actually shown, is anything to go by, then Ife certainly pushes the boundaries of telling the LGBT story by Nigerian movie standards.
In one shot, the two protagonists, Ife and Adaora are in bed talking about love and the challenges faced by LGBT people especially within their families.
Their conversation forms the spine of the teaser for the film.
Homosexuality is an extremely contentious issue in many parts of Africa and Nigeria is no different.
It is a highly religious and traditional society and its influential Christian and Muslim organisations oppose homosexuality.
As a consequence, Nigeria is one of 30 countries on the continent where it is criminalised.
BBC
(Visited 307 times, 1 visits today)
Subscribe to our Youtube Channel :
Follow Us on Instagram