The Malawi Police Service (MPS) has trashed rumors regarding a vacancy alleged to be issued by the department making rounds on social media platforms.
National Police Spokesperson James Kadadzera sad this in a press statement made available to Face of Malawi.
According to Kadadzera the said vacancy circulation on Social media platforms s not true.
'ÄúThe Malawi Police Service would like to bring to the attention of Malawians and prospective applicants in particular that the police recruitment vacancy is not yet out,'ÄĚ Kadadzera said.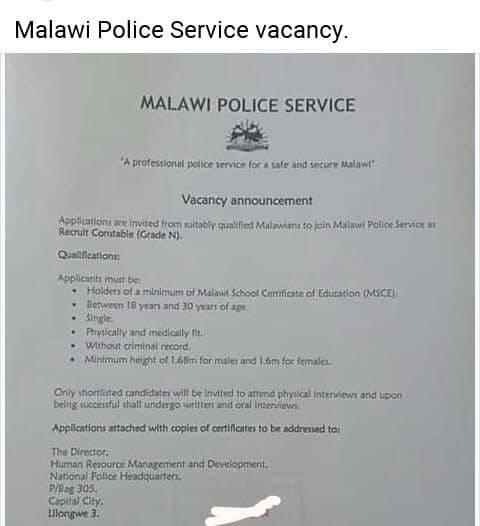 He further added that the vacancy announcement making rounds on social media should be disregarded as it is fake adding that it is an old vacancy.
'ÄúIt is an old vacancy announcement and the one who uploaded it on social media has tactfully deleted the closing date of receiving application letters,'ÄĚ he added.
He added; 'ÄúA fresh vacancy will be released soon and the general public will be notified through radio, TV and newspapers.'ÄĚ
Earlier this year the department released a vacancy inviting application letters shortlist for candidates to attend interviews was also released.
However after fresh presidential elections, the new Minister of homeland affairs cancelled the recruitment process arguing the procedures were doubtful.
(Visited 196 times, 1 visits today)
Subscribe to our Youtube Channel :
Follow Us on Instagram