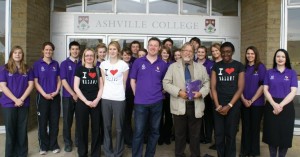 Classmates and teachers, will be setting up a shop to raise funds for the Malawi Open Arms Project.
FOR IMMEDIATE RELEASE
PRLog (Press Release)
–
May 20, 2011
– Pupils from a Harrogate school will be hoping to hear the ringing of tills this Saturday, (May 28) as they set up a shop to raise money for Malawi's Open Arms Charity.
From 10.30am-4pm, Ashville College students and teachers will be occupying the Wesley Chapel's Lower Hall, where they will be selling CDs, clothes, books toys and bric-a-brac.
The shop is the latest in a series of fund-raising initiatives being carried out in aid of the African-based charity.
In July, a group of 19 students and three staff members from the independent school will be spending almost a month at the Open Arms Infant Home in Blantyre, which is managed by former Ashville teacher, Neville Bevis.
Other fundraising efforts to date have included selling I Love Malawi T-Shirts, bag-packing at ASDA and a car-wash.
The proceeds of last September's annual sponsored walk are also going to the charity, which Mr Bevis has been directly involved with for more than 12 years.
Ashville College pupil Anna Hartley, who, with fellow pupil Lucy Gould, has organised the shop, said: "Ahead of our month in Malawi, we are pulling out the stops to raise a significant amount of money for the Open Arms Charity.
"We are hoping we can pull in the customers and sell plenty of items, all of which have been donated. There will be about 20 of us involved in the day. Some will be manning the tills, others making sure the stock is looking at its best, while the rest help drum up custom.
"In addition to raising money for the charity, it's a great team-building event and we are looking forward to opening for business at 10.30am on the dot."
Over the last 12 years, 200 pupils have visited the project, based on the shores of Lake Malawi. During that time, Ashville College pupils, teachers and parents have raised in the region of £160,000 for the charity
Subscribe to our Youtube Channel: