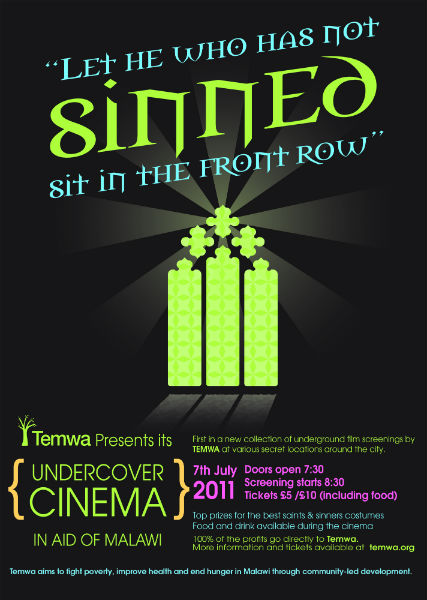 "Let he who has not sinned sit in the front row"
Thursday 7th July 2011
Temwa is proud to announce the date for the first of a new collection of underground film screenings at various secret sites in and around the city.
Each screening is set to present a truly unique and intimate experience picking different locations to suit the collection of cinematic cult classics we have in mind.
Without giving too much away, the first of this summer's screenings falls under the theme of saints and sinners.
All undercover cinema goers are encouraged to dress in accordance with this theme and prizes will be given out on the evening for the most creative and innovative of costumes.
The location is to remain totally confidential, so much so that those who purchase tickets will receive information directing them where to go only hours before the event kicks off.
Not to worry though, what we can tell you is that the final destination will be no more than a twenty minute bus journey or cycle ride from Bristol city centre giving all cinema goers plenty of time to congregate before the film starts.
Food and drink will be available at the location during the cinema screening and 100% of all profits made on the evening with go directly to Temwa.
Doors open 7:30 Screening starts 8:30 prompt
Tickets £5.50, or £11 including food (once you have purchased a ticket we will contact you about your food choice!)
Any other questions can be emailed to events@temwa.org.uk
Subscribe to our Youtube Channel: