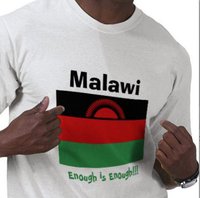 If you are a Malawian on Facebook you probably already know about this event making rounds on the social networking site. It is about a big demonstration slated to coincide with the commemoration of 47 years of independence on 6th July. it has been dubbed 'Demo Yakathithi pa 6 July'.
The event created by one Geuka Kumpoto has so far attracted over 2,323 attendees and it is reported to take place in Blantyre, Zomba, Lilongwe and Mzuzu. Details of the demo are sketchy as to who is organising in the cities, starting or finishing place and who will address the people. But it seems many Malawians are eager to take part in this event based on the comments posted on the events wall.
Recently the president directed that those who plan to hold demonstrations are supposed to pay a deposit of MK2 Million Kwacha in case peoples property will be damaged, it remains to be seen if the organisers of this event have paid the deposit.
Here is the exact words written as information about the event:
Many of our freedoms have been compromised. Forex, Fuel, Water and Electricity can only be found at the State House. Zero-deficit budget is a robbery. Injuction bill is oppressive.
Enough is Enough! Time for Malawi to rise again.
Source : VINCE KUMWENDA
Website : http://www.vincekumwenda.blogspot.com/
Subscribe to our Youtube Channel: