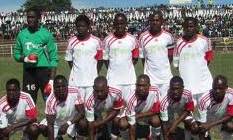 An 11th minute thunderbolt strike from Luka Myaba was enough to seal the victory for Bullets FC on Saturday against the central bankers; Silver Strikers FC in a highly competitive match.
The Bankers were a better side for the day as much of the possession was held by them so too was their chance for scoring goals which were misused by the Central Bankers. Whilst on the other hand, the Bullets FC stars made utmost use of their chance in the first half to score a decider for the game. At one point in time fingers were raised and pointed at the referee for failing to award what were thought to be penalties.
However it was the tantalizing skills of Bullet's Yamikani Fodya and Luka Myaba that kept the fans on their edges wanting for more. Though Silver pressed for an equalizer playing for the better part of the second half in the Bullets half but could not get a goal as luck was not just to be.
Silver FC has always struggled to beat Bullets FC on numerous occassions and this was evident when the two sides met.
On Sunday, the People's team were reduced to weeping boys when they were beaten 2- 1 by the central region debutants EPAC FC.
Bullets return to their base after amassing 4 points from a probable 6 points which has moved them steps higher on the top flight league.
Subscribe to our Youtube Channel: