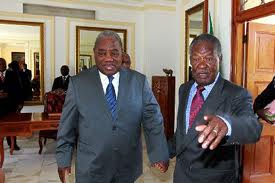 President Micheal Chilufya Sata has shunned Malawi President Bingu wa Mutharika at his country's 47th independence celebrations but extended his invitation to vice president Joyce Banda and former president Bakili Muluzi.
Zambia celebrates 'flag' independence on Monday.
Nyasatimes reports that in an invitation to Malawi former president, Sata also asked Muluzi's son, Atupele to attend the celebrations.
"I have the honour to invite Your Excellency and your dear son (Atupele) to grace the 47th independence anniversary of Zambia," reads the letter to Muluzi.
"I will be honoured for your presence so that I can express my thanks for the support you rendered to me during difficult time," he said.
Secretary General of Zamba's ruling Patriotic Front, Wynter Kabimba, confirmed that the invitations were also sent to Vice President Banda.
Nyasa Times understands that there has been no invitation to President Mutharika.
The relationship between president Mutharika and his vice president Joyce Banda is bad.
Joyce Banda on Sptember 7, 2011 formed her own partycalled  the People's Party (PP). She is expected to lead the party in the 2014 presidential polls.
"Our plan for the next two years is to build the party in readiness to stand for election," said Banda. "We have more than 1.2 million members already. So, we have put systems in place that will enable us to articulate the issues that we want to present to the Malawi electorate in a form of a manifesto in 2013."
– Zambia Watchdog
Subscribe to our Youtube Channel: