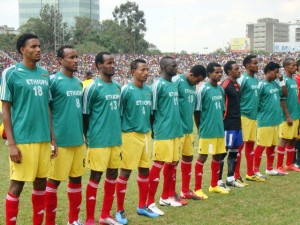 Salaam, Tanzania – A feat opposite Malawi here tomorrow is a must If Ethiopia wants to allege to a quarter-finals of a CECAFA Cup.
Ethiopia is now in final place in a organisation with only one indicate and a -2 idea disproportion after dual matches.
But notwithstanding a team's stream unsafe position, it still has a possibility to allege from a organisation if it beats Malawi by some-more than dual goals.
The large doubt is either Ethiopian strikers, who have been ineffectual  (1 idea in 2 matches) so far, will finally strike their targets and be productive.
For a part, Malawi tops a organisation with 4 points with a win over Kenya (2-0) and a pull with Sudan (1-1).
The tip dual teams in any organisation will validate for a entertain finals, and they will be assimilated by a dual best third placed teams.

Group Results and Table Standings:
 Group A
26 Nov 2011
Tanzania 0 – 1 Rwanda
Zimbabwe 2 – 0 Djibouti
29 Nov 2011
Rwanda v Zimbabwe 2-0
Tanzania v Djibouti 3-0
2 Dec 2011
Rwanda v Djibouti
3 Dec 2011
Tanzania v Zimbabwe
Fri 2nd Dec 2011
Rwanda vs Djibouti
Sat 3rd Dec 2011
Tanzania vs Zimbabwe
__________________________________________________________
Group B
25 Nov 2011
Burundi 4 – 1 Somalia
Uganda 2 – 1 Zanzibar
27 Nov 2011
Zanzibar 0 – 0 Burundi
28 Nov 2011
Somalia 0 – 4 Uganda
1 Dec 2011
Somalia v Zanzibar 0-3
Burundi v Uganda  1-0
__________________________________________________________________________________+
Group C
28 Nov 2011
Sudan 1 – 1 Ethiopia
Kenya 0 – 2 Malawi
30 Nov 2011
Ethiopia v Kenya 0-2
Malawi v Sudan 1-1
2 Dec 2011
Ethiopia v Malawi
3 Dec 2011
Kenya v Sudan
Fri 2nd Dec 2011
Ethiopia vs Malawi
Sat 3rd Dec 2011
Kenya vs Sudan
_____________________________________________________________________________________
Third Place Teams
Quarter-Finals
Monday 5th Dec 2011 and
Tuesday 6th Dec 2011
Semi-Finals
Thursday 8th Dec 2011
 Final and Third place
Saturday 10th Dec 2011
Subscribe to our Youtube Channel: