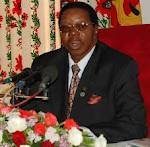 Malawi President Bingu wa Mutharika is calling for donor organizations to probe how civil groups use their money, noting corruption is not just a problem in government.
President Bingu wa Mutharika used Malawi's National Anti- Corruption Day last week to go on the offensive by suggesting civil groups need to be as accountable as government in how they spend donations.
"The civil society sings and always pressurizes the government to be transparent and accountable," he said. "We are now saying they too must be transparent and accountable. In fact, what we are saying is that they should accept to be measured by the same yardstick by which they measure the government."
The president warned donors to vet civil groups before being so quick to take aid money from the government and place it in other sectors.
"Since some of the donors have decided to divert large sections of funds from the government to civil society organizations," said Mutharika. "In their books, they will say we assisted Malawi with so many millions in dollars. But these millions are not coming to Malawi government but to civil society organizations which not accountable. I therefore would like to call upon the donors to demand accountability from the civil society organizations they fund."
Not surprisingly, this year's speech did not go over well with everyone in the private sector.
The executive director of a local civil rights organization Malawi Watch, Billy Banda, questions why the president chose to divert focus from official corruption in this year's speech. He notes NGOs do have accountability to donors.
"It is the donors, themselves, that could curtail some of the development programs that they are funding [the NGOs] if they are not accountable to the donors," he said. "NGOs do not get any money from public coffers and if at all NGOs are not being transparent in appropriation of funds, let the donors [themselves speak up] and not government, because the money does not come from government coffers."
Catholic University of Malawi political scientist Vincent Kondowe suggests the president was trying to divert attention away from lack of progress in fighting official corruption.
"Objectively speaking, at the moment, the perception is that corruption is high among government institutions and across all the spectrum of all government branches. So the president probably believes in denial," said Kondowe. "That this time he does not want to accept and face reality that corruption is very high in the country."
Mutharika made fighting corruption a big part of his agenda after his first election in 2004. He wanted to regain donor confidence, which had eroded during the administration of his predecessor Bakili Muluzi. Six years later, the president acknowledges that ending corruption is not an easy fix.
"At my inauguration as the president of my country, I declared zero tolerance to corruption," he said. "After several years of advocacy, is Malawi winning the battle against corruption? I do not have immediate answers. What I know is that the fight still goes on."
Subscribe to our Youtube Channel: