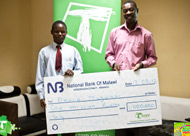 David Magalasi recently got accepted into the University of Malawi after scoring a resounding 15 points in his MSCE's.Little did he know that his fortunes would triple after recharging with a meager MK20 through Pompo Pompo's electronic recharge David Magalasi was officially initiated into the elite club of TNM millionaires at the 7th weekly Pompo Pompo draw.
Magalasi, who was accompanied by his father, was lost for words as he received his MK1million cheque, managing only a few words of gratitude and appreciation, 'I thank TNM for what they have done for me and my family, it's truly admirable, I plan to use this money to aide me in my studies'.
The TNM Pompo Pompo promotion has reached the half mark and with more than 300, 000 subscribers recharging using Pompo Pompo, almost 10, 000 airtime and handset winners not to mention 3 millionaires, the TNM Pompo Pompo promotion keeps getting better and better.
Subscribe to our Youtube Channel: