Minister of Agriculture, Irrigation and Water Development,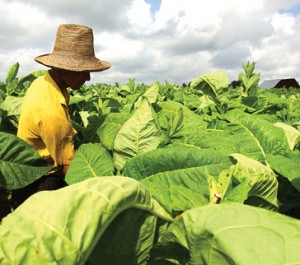 is said to have mediated the dispute that erupted on the first day of this year's tobacco market season.
Angry tobacco farmers on Monday chased away the buyers from inside the Kanengo floors protesting against what they called disappointing prices at the time they expected better prices, owing to high cost of farm inputs and reduced volumes produced this year.
The country has produced an estimated total of about 151 million kilogrammes against trade requirement of 165 million kilograms, according to official figures.
"The Minister of Agriculture intervened. He met the buyers and the representatives of the farmers, among others and the meeting ended well as now the market is progressing well," the Tobacco Control Commission (TCC) Chief Executive Officer, Bruce Munthali said.
Munthali said what happened on Monday is just as a result of high expectations from the farmers, saying comparatively this year's prices are better than last year from the start.
On Monday the overall price was US$111, indicating US$0.31 more than last year's overall price of US$0.80 last year.
"Generally so far the prices are better than last year and we hope they will get better as the market progresses. What we had on the opening day was as a result of operational challenges, among others," Munthali said.
During the visit at the Auction Floors at the opening day the prices were hovering between US$0.85 and US$120 but one lucky farmer had his leaf sold at the maximum price of US$220.
With the starting average price of US$1.11 per kilogramme the country would earn US$167 million lower than US$290 million.
With the forex woes the country is going through this year's market season could not improve much on the import bill as it is always anticipated.
Subscribe to our Youtube Channel: