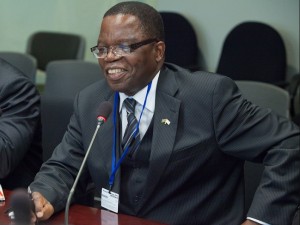 Finance Minister Ken Lipenga leaves today for Washington DC, United States of America to attend the spring meetings of the International Monetary Fund (IMF) and the World Bank and negotiate the restoration of the country's off-track programme with the fund.
Lipenga confirmed in an interview on Sunday that he would head a delegation from Malawi to the meetings which includes Reserve Bank of Malawi (RBM) Governor Perks Ligoya and other senior government officials.
"We will take advantage of the goodwill generated by the coming into power of her Excellency President Joyce Banda to present a case of urgency on the economic needs of the country," said Lipenga.
He said apart from the regular meeting, what was even more important for the Malawi delegation would be the side meetings where detailed issues about Malawi will be tabled.
"I have very specific instructions from the President [Joyce Banda] to discuss the country's relations and prospects of support with the IMF and the World Bank," said Lipenga.
He said, among other things, he would discuss with officials from the two Bretton Woods institutions the idea of a package and a macro-economic framework that will support the economic recovery of the country.
Lipenga also said he will attend a roundtable discussion on Malawi organised by the World Bank.
"This [World Bank roundtable] reflects the enormous goodwill [on Malawi] generated by the coming into power by her Excellency who has place the economy as her number priority," said Lipenga.
He said Malawi has also been included on the list of 15 African countries to participate in the special meeting of African finance ministers to discuss economic issues on the continent.
The IMF-World Bank spring meetings, to be held from April 20 to 22, will bring together thousands of government officials, the private sector, journalists, civil society representatives, and other interested observers to discuss economic and financial issues affecting the world.
At the heart of the gathering are meetings of the IMF's International Monetary and Financial Committee and the joint World Bank-IMF Development Committee, which discuss progress on the work of the IMF and World Bank.
Also featured are seminars, regional briefings, press conferences, and many other events focused on the global economy, international development, and the world's financial markets.
Subscribe to our Youtube Channel: