Leading health and humanitarian organization PCI (Project Concern International) distributed 20kg of emergency food aid (pinto beans and corn/soy blend) each to over 3000 rural households in one day, working toward a goal of reaching particularly vulnerable 8000 households/month in the rural areas of Balaka and Machinga. Each ration is enough food to last three months and help hungry families survive yet another lost maize harvest due to devastating drought. These struggling regions are also adversely affected by the foreign exchange situation, fuel and electricity shortages, the uncertain future of the current fertilizer subsidy, and a turbulent political scene.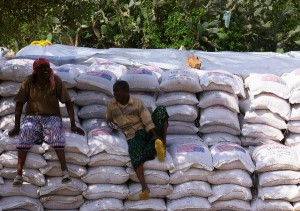 The food distributions followed community outreach events which included a resource fair staffed by PCI Malawi staff, offering information and education in the areas of agriculture, maternal and child health and nutrition, and disaster risk reduction. Program staff relayed strategic messages through theme-based song, poetry and drama. Ongoing events are planned this month in nearby districts.
PCI began operations in Malawi in 2007 to promote sustainable income opportunities among small-scale fish farmers in the southern Zomba River basin region. PCI is creating a sustainable foundation that helps people obtain the education, skills, and access to capital they need to decrease their vulnerability, strengthen their own livelihoods, and improve the health and well-being of their families and communities. Since then, PCI's portfolio in Malawi has expanded to include integrated food security and HIV/AIDS prevention and treatment programming.
In partnership with Catholic Relief Services (CRS), in 2009, PCI initiated the integrated Wellness and Agriculture for Life Advancement (WALA) program in Southern Malawi's Balaka and Machinga Districts, which is designed to improve maternal and child health, nutritional status and food security for over 200,000 vulnerable households. The five-year program is providing farmers with the training and tools they need to grow family gardens, increase crop yields through access to high quality seeds, agronomy, as well as soil and water conservation and irrigation. Additionally, PCI is providing training to help people start and manage savings and loan groups. By providing the members of the savings and loan groups with skills in reading, writing, and basic financial literacy, community members can financially support each other with personal and business start-up loans.
Malawi is a landlocked country in southeast Africa bordered by Zambia to the northwest, Tanzania to the northeast, and Mozambique on the east, south and west. Malawi is among the world's least-developed countries. The economy is heavily based in agriculture, with a largely rural population estimated at more than 15 million. According to the Population Reference Bureau, Malawi has a life expectancy of only 54 years, an infant mortality rate of 58 per 1,000 live births, and 90% of the population live on less than US $ 2.00/day.
Adding to the turmoil is the sudden death of Malawi's president, Bingu wa Mutharika, on April 5, 2012, His previously ousted vice president, Joyce Banda, was sworn in April 7 to complete Mutharika's second term, which ends in 2014, becoming Malawi's first woman president, the second in Africa. Banda has a history of fighting poverty and helping women, including founding the National Association of Business Women in 1989 to give startup cash to women entrepreneurs.
"PCI is proud to help these Malawian communities get through this terrible time of drought and failed harvests. We are committed to strengthening these communities, helping them increase their resiliency, find practical solutions, and build toward a better future," commented Janine Schooley, Sr. VP of Programs for PCI.
Funding partners include the United States Agency for International Development; US Department of Defense, HIV/AIDS Prevention Program (DHAPP); Catholic Relief Services, The Conrad N. Hilton Foundation, and various private donors.To learn more about PCI and its impact of global health and humanitarian work, please visit http://www.PCIglobal.org or contact Annette Gregg, Senior Director of Marketing & Communications, at (858)279-9690.
Celebrating its 50th anniversary in 2011, PCI (Project Concern International) is an international health, development and humanitarian assistance organization, operating in 16 countries worldwide. PCI is dedicated to saving lives and building healthy communities around the globe, benefitting over 6.7 million people annually in Asia, Africa and the Americas. Funded by federal grants and private support, PCI's current annual budget is nearly $ 50 million and the organization has 600 employees worldwide. PCI's headquarters are located in San Diego, CA and also has an office in Washington, DC and a Seattle, WA representative.
Subscribe to our Youtube Channel: