The head of the African Development Bank said on Sunday he is willing to provide $45 million in budget financing for Malawi to help new President Joyce Banda revive the struggling economy.
Speaking after meetings of the International Monetary Fund and World Bank in Washington, African Development Bank President Donald Kaberuka told Reuters he was determined to support Malawi as it tries to resume economic reforms.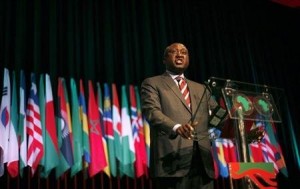 He said he had held "good" discussions with Malawian Finance Minister Ken Lipenga on the sidelines of the meetings.
"I am confident Malawians are doing the right thing and we want to support them," Kaberuka said in an interview.
"This will be $45 million in two tranches. I am considering front loading this first tranche to support the currency realignment and to make the next tranche a floating one."
Kaberuka said the development bank would begin discussions on budget support, which were put on hold last year.
"Now that they are having very constructive discussions with the IMF, I am prepared absolutely to support Malawi as they resume the reforms, which were doing so well some time ago," he said.
Malawi's economic difficulties have worsened since last year after donors, that had traditionally bankrolled about 40 percent of the budget, suspended aid over human rights concerns about the former president, Bingu wa Mutharika, a former World Bank economist.
The collapse of donor funding put pressure on the currency, the kwacha, forcing a 10 percent devaluation last year.
Banda, a former vice president of Malawi and long-time women's rights activist, was sworn in as president on April 7 after Mutharika's unexpected death from a heart attack.
One of her first moves as president was to fire Malawi's police chief for the killing of 20 people in anti-government protests in July 2011, which drew international condemnation and led to aid cuts.
Kaberuka said he was confident that Malawi would be able to repair its relationship with its donors.
The IMF said last week it was in discussions with Malawi on a new economic program that would be supported by an IMF loan.
The Fund suspended its $79 million program with Malawi last year over Mutharika's handling of the economy. The aid freeze compounded an acute dollar shortage caused by a sharp decline in tobacco sales, Malawi's main source of foreign revenue.
Lipenga told Reuters on April 9 that Mutharika had blocked plans called for by the IMF to devalue Malawi's currency because he worried the move would hurt the poor.
The IMF wants to see the kwacha further devalued, saying too much of the state's reserves are being used to defend it.
Subscribe to our Youtube Channel: