Malawi has long lacked responsible, effective, nation-centered leaders. Now that Joyce Banda has acceded to the country's presidency, she plausibly can provide what her three male predecessors – and so many other African heads of state and heads of government — have demonstrably failed to supply. If she can reinvigorate Malawi's governance by emulating the leadership qualities of Nelson Mandela, Seretse Khama, Sewoogasur Ramgoolam, and Ellen Johnson Sirleaf (among others) then Malawi will finally have achieved the dawn of inspiration and performance to which it has long aspired.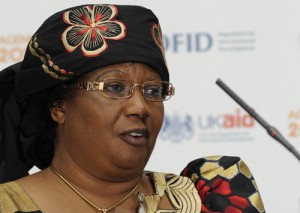 Kamuzu Banda, Bakili Muluzi, and recently deceased Bingu wa Mutharika all came to power as Malawian presidents professing lofty democratic ideals. But, instead of being transformationalists in the manner of Mandela and Khama, they lapsed into transactional models of limited leadership. They each preferred accumulating power to serving the broad range of their citizens. They each chose to rule as authoritatively as they could, extremely in Kamuzu Banda's case. All believed in their omnipotence; just remember the length and pomp of their motorcades!
Each, in his own way, was corrupt and permissive of the corruption of relatives and associates. There were the sugar cartels and the other special arrangements that permitted the accumulation of wealth and the provision of ample patronage. Most Malawians were aware, under all three reigns, who was benefiting and who facilitated rides on the gravy train.
President Joyce Banda, pilloried by Mutharika after choosing her to be his vice-president, fell out with him over her opposition to nepotism and other forms of cronyism, plus Mutharika's battles with the British High Commissioner, with the press, and with his own one-time supporters. Now Joyce Banda has the opportunity to demonstrate serious leadership skills capable of uniting her poor, fragile, nation behind new people-focused policies of good governance and growth.
The best leaders enunciate a vision capable of mobilizing a nation's people behind goals that nearly everyone can share. Malawians, and Africans more generally, want opportunities to better themselves educationally, to realize better health, to prosper economically, to be able to exert voice – to express themselves politically and freely, and to be safe and secure. Those are all the responsibilities of the modern state. And the behavior of the modern state takes its cue from its political leaders.
The best of Africa and the developing world's leaders are capable to embracing a comprehensive plan to advance the interests of all of their followers, not merely (as in the Kamuzu Banda, Muluzi, and Mutharika eras) their cronies and relatives. In the present Malawian case, that will mean focusing on strengthening schools, clinics and hospitals (Malawi has the worst ratio of patients to physicians in Africa), on upgrading infrastructure, on developing new water and irrigation resources, on reducing corrupt practices, and – most of all – on somehow giving Malawians a sense of purpose and belonging. Their leaders have deprived them of that sense of lofty purpose – of being part of a worthy national enterprise.
If Joyce Banda can thus uplift her people she will be the leader that Malawians have always sought. That will mean resisting any attempts to favor her political followers at the expense of other Malawian political groupings. It will mean favoring Malawi's three provinces equally. It will mean sanctioning those of her associates who behave corruptly. It will mean rapidly repairing relations with donors and the democratic leaders of southern Africa.
Joyce Banda now has an opportunity to demonstrate intellectual honesty, consummate personal integrity, the people skills of emotional intelligence, inclusivism (Mandela's signal accomplishment), tolerance of difference (Khama's great lesson), and a clear acknowledgement of institutional independence (the judiciary, the media, parliament). If Joyce Banda can decisively make those breaks with the political cultures of her male predecessors, then Malawians can begin to realize the sustainable GDP, social, and political improvements that have eluded them for too many decades. An honest, open woman can do what vain, puffed up men could not.
(Visited 18 times, 1 visits today)