President Joyce Banda on Friday addressed Parliament for the first time since assuming office spelling out her dream for a unified Malawi where the citizenry maximised their capacity to realise their social, political and economic empowerment and forge forward against currently existing socio-economic challenges.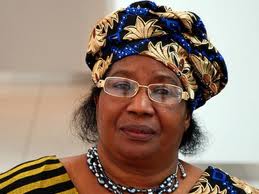 In her two-hour 10 minutes address, President Banda stressed the need for strong political leadership "based on Umunthu" that would promote the public service backed by effective systems "which would be able to provide steady national direction for sustained growth."
She said, through the Malawi Growth and Development Strategy MGDSs II, designed to lift Malawi out of poverty to prosperity, the country is able to measure her development achievements against the eight Millennium Development Goals MDGs designed by the United Nations for global development.
"…since I am finishing the second half of my predecessor's term,… to a greater extent, I will endeavour to complete his programmes. However, it is my view that there is urgent need in our country to change the way we do things. This administration will need to realign some of the policies and programmes according to the administration's vision," President Banda said.
The President said the immediate business of her government would be to let the people realize their potential to regain freedom, dignity and sense of pride and also drive the people's agenda that enhances opportunities, reduces inequalities and overcomes poverty through political, social and economic programs.
She said in trying to achieve this dream, her government's main policy thrust has become the creation of wealth through economic growth and the creation of wealth as a means of eradicating poverty.
"In the immediate term (within three months) it (government) is dealing with monetary, fiscal and revenue policies including foreign exchange rate adjustment and expenditure control. Government will implement measures to cushion the general population against the unintended socio-economic impacts of the exchange rate adjustment," she said.
President Banda then went on a litany of a deliberate policy adoption which in essence is a point-to-point response to demands that local civil society organizations made prior to the deadly July 20 demonstrations of last year when her predecessor the late president Bingu wa Mutharika was at the helm.
She said, her government would repeal all oppressive laws including that which empowers a cabinet minister to ban publications, one that allows the police to conduct searches without a court warrant and also institute investigations into the death of Polytechnic student Robert Chasowa and also two other people who died while in police custody.
She said battered bilateral relations with the United Kingdom and Mozambique have so far been normalized since she assumed office.
But President Banda was not without controversy in her state of the nation address as one-month and 18 days after the death of her predecessor president Mutharika, she has told the nation she still does not know his actual date of death, the cause and the medical attention that was made available to him before death and who played what role during and in managing the transition that saw her assuming the high office of president of the republic of Malawi.
"Since the passing on of the late president Professor Bingu wa Mutharika, I have been receiving a lot of requests to institute an investigation into the alleged coup plot. By public demand,…I have decided to immediately set up a commission of Inquiry to investigate the circumstances, intent and extent of the said alleged coup and put the matter to rest as a nation," she said to the uproar of the government side of the house.
She also wants the MRA saga investigated and that public officers with information on any other fraud, embezzlement and malpractice in procurement that was taking place in the Mutharika administration to bring it forth by June 18, debate on the change of the national flag resuscitated with a possibility of rescinding it.
The President also made a run through of what her administration would like to see done in the areas of Agriculture and Food Security, Health, Education, Science and Technology, Transport Infrastructure, Climate Change, Natural Resources and Environmental Management and also Rural Development.
On public sector reforms, she said the objective of her administration is to strengthen and improve efficiency and effectiveness in the public service in response to a high demand for quality public goods and services by the general public.
"In the 2012/2013 fiscal year, government will continue implementing these reforms. Government will conduct quick impact reform programmes focusing on performance analysis of selected services including the road traffic management, Malawi revenue Authority, Land Registry management, water Boards management and urban sanitation services," President Banda said.
This, she said, after noting that in the 2011/2012 fiscal year, reforms focused on medium term pay policy, capacity building, health service delivery, parastatal management, central government procurement system, pension scheme and the development of service charters, strategic plans and human resource development.
Subscribe to our Youtube Channel: