Malawi's Mumbo Island's recycling and community initiative of sewing old cushion covers into simple frocks, shorts and shirts for the vulnerable children of the village has continued this year. Billy, the local tailor, remakes the cushion covers into charming outfits for the children who are looked after by a man appropriately named Vision.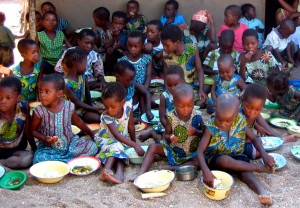 Vision runs an informal orphan and vulnerable children's feeding programme. He and his wife provide one good meal a day for the children at his home in the village. He also grows a vegetable garden to provide much of this food, in which the children help by watering and weeding. Some of this produce he also sells to raise cash to buy sugar and tea for the children. So some of the salads guests eat on Mumbo have that extra feel-good factor!
It's also now cheaper than before for international visitors to visit Mumbo. A previous rate for African residents is now the rate for everyone making this unique and beautiful island more accessible to travellers from all over the world.
The facts:
• Rates down 30% from USD295 per adult per night; to USD210 per adult per night.
• No more single supplements.
• Maximum age for child rates up from 11 years to 18 years of age.
• New rates take effect from 1 July 2012, and are valid to 10 January 2013.
Subscribe to our Youtube Channel: