About 13 Rolex wrist watches were found in late President Bingu wa Mutharika's bags on Saturday June 2 2012. The expensive watches together with five hundred thousand US Dollars (US$500,000) or approximately MwK136.35millon if converted at today's middle rate of $1/MwK272.70 were found in late Bingu's bag which were reported stolen from the New State House soon after his sudden death on April 5 2012.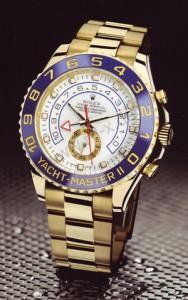 The least expensive Rolex watch costs $5,050 or approximately MwK1.4million at the middle rate of $1/MwK272.70. Knowing late Mutharika's extravagance, it is doubtful the 13 watches could be of this 'low value'.
According to a family source, former First Lady Callista Mutharika and Bingus daughter, Duwa Mubaira shared the spoils in the bag.
The ceremony which took place at the late president's private mansion, Ndata in Thyolo, revealed the true characters of the widow Callista and Duwa, said the source. According to the source, the two women spoke on top of their voices without regard and respect to the [family] elders who amongst them were brother to the late president, Professor Arthur Peter Mutharika, Mr. Namondwe, Dr. Charles Matabwa. The former Safe Motherhood Goodwill Ambassador had told the gathering that she was taking the money and the valuable watches; saying if anything she was sharing them with Duwa. Nobody argued with the two women over the deceased's loot.
The family source also told me that the late wa Mutharika's will is out but not yet ready for the curious public. As soon I lay my hands on it and/or its contents, this page will be updated accordingly. Keep visiting this site.
Source: http://rebeccachimjeka.wordpress.com/2012/06/04/callista-duwa-share-late-mutharikas-loot/
Subscribe to our Youtube Channel: