The former ruling Democratic Progressive Party (DPP) has admitted that the flag change was done in speed.
This has come two days after Parliament passed the protected flag, emblems and name amendment bill a development which meant reverted to the initial flag attained during independence.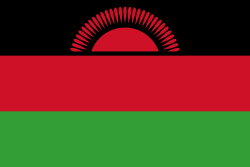 DPP Chief Whip in parliament Henry Mussa said on Wednesday the change of the national flag in 2010 was indeed not inclusive no wonder the majority in parliament voted against the new flag.
"No much consultation was made in regard to the flag change, a development which did not reflect the public opinion. But we are happy that Malawians are now happy with the change," Mussa said.
Mussa has however pledged total support to government in dealing with the current problems Malawi is facing.
"The DPP will be part of the solution to the challenges hence there is a need for government to open up for ideas from other parties if Malawi is to be bailed out of the economic challenge," he said.
Subscribe to our Youtube Channel: