Former Miss Malawi, Faith Chibale on 11th March 2014 wrote on her time line refuting rumuors that spread on the social media that she is dead.
"Akuti ndafa? Inendingafe ndisanalengezese" she wrote.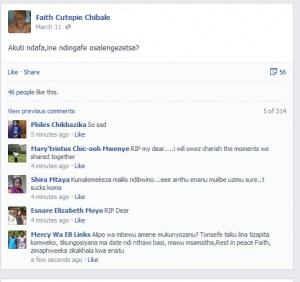 Her death come barely four days after refuting the rumours.
Faith Chibale 25, passed on today at Queens Elizabeth Central Hospital after a long illness.
She did her Secondary Education at st Michaels  girls Secondary School in Mangochi.
Meanwhile the burial ceremony is yet to be announced.
(Visited 141 times, 1 visits today)