Police at Bvumbwe, Thyolo are keeping in custody two people in connection with the murder of a security corporal at Hillview Poutry Farm/Kel Foods identified as Joseph Juma, 50.
The two suspects have been identified as Samson Manjomo, 36 and 38-year-old Charles Kanyoze who committed the murder along with other accomplices who have since not been arrested yet.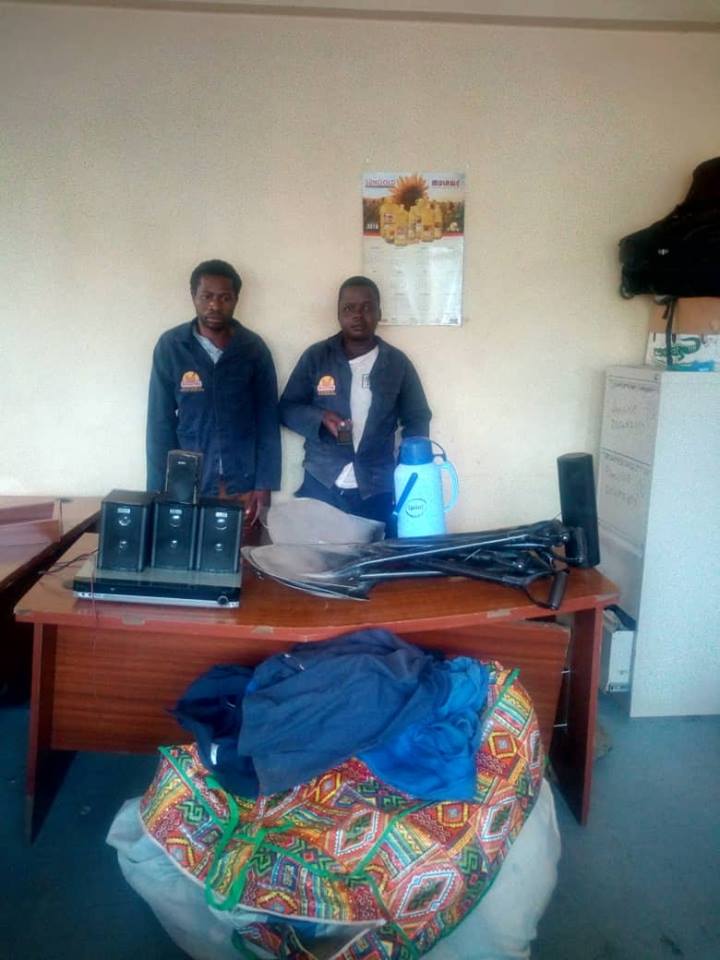 The deceased boss, Mr Moses Kwenda reported to police on 23rd October that during the day of the incident, a group of unknown thugs armed with panga knives, crowbers stormed the Poutry Farm where they found the deceased on duty.
While there, they assaulted the deceased and left him lifeless before making away with different properties.
After the matter was reported to police, law enforcers established an investigation that led to the arrest of the culprits at Yassin area and also PIM in Chiradzulu.
The two suspects led a team of detectives to PIM, Yassin and Luchenza where following properties got recovered; One Tecno cellphone which was stolen from the deceased, assorted work suit written Donna Eggs, Nine Shovels, Three supersonic twitters, one DVD player, assorted pairs of shoes, Sprint 4litters flask and other properties.
The suspects disclosed that all the properties were stolen from Hillview Poultry Farm on the day of the incident.
Meanwhile, the suspects will soon be in court to answer charges accordingly as an investigation to arrest the other suspects is still underway.
The suspects, Samson Manjomo hails from Khonyiwa village in the area of traditional authority Machinjiri in Blantyre while Charles Kanyoza comes from Sagawa village, T/A Juma in Mulanje.
The deceased, Josephy Juma hailed from Chirombo, T/A Chimaliro in Thyolo district.
(Visited 28 times, 1 visits today)
Subscribe to our Youtube Channel :
Follow Us on Instagram