Malawi Electoral Commission MEC has approved 9 out of 10 presidential candidates who submitted nomination papers.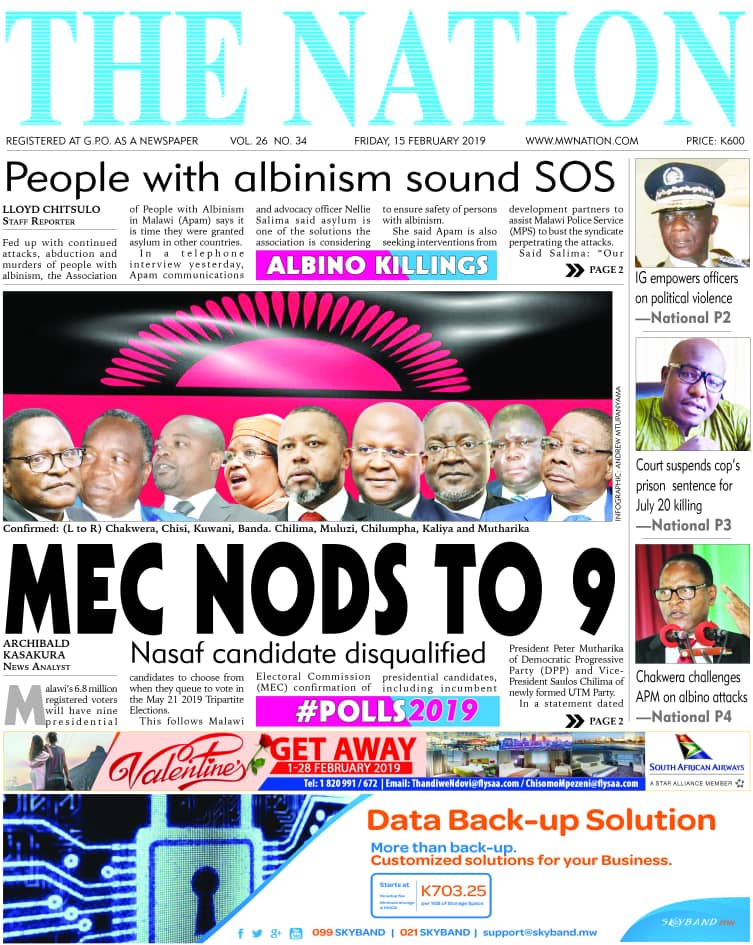 They are Dr Lazarus Chakwera of Malawi Congress Party, Professor John Chisi of Umodzi Party, Dr Joyce Banda of Peoples Party PP, Professor Peter Mutharika of Democratic Progressive Party DPP, Mr Peter Kuwani of Mbakuwaku Movement for Development MMD, Dr Cassim Chilumpha of Tikonze Peoples Movement TPM, Atupele Muluzi of United Democratic Front UDF, Dr Saulos Chilima of UTM and Mr Reverend Kaliya Independent.
According to chief elections officer of MEC Sam Alufandika the commission has disqualified Laudon Malingamoyo of National Salvation Front NASAF and his running mate Ethel Vivian Makoko.
Alufandika said Malingamoyo met the minimum requirement of 10 electors in one district only out of the required 28 and was requested to satisfy the requirement by 11th February but he did not.
He further said the commission planned to release names of parliamentary candidates after 14 days and local government before expiry of 21 from the last day of nomination.
Meanwhile, Malingamoyo says is shocked that Malawi Electoral Commission has disqualified his nomination.
Speaking to radio Islam, Malingamoyo said he is yet to receive official communication from MEC on the reasons behind his disqualification.
His remarks come a day after MEC released the list of presidential aspirants who have been approved to run during the May 21 tripartite elections.
He however said Nasaf will make its next steps known once MEC communicates officially, but he considers himself a presidential candidate.
Reacting to the development, Chancellor College based Political analyst Dr Mustafa Hussein said there is need to scrutinize candidates before MEC receives nomination papers.
Subscribe to our Youtube Channel: