Muscle Girls is a Tokyo-based women's gym that doubles as a fitness-themed bar staffed by a group of young, muscular women.
Japan is famous for its plethora of themed bars and cafes, from black cat cafes to cafes dedicated to women's thighs, but Muscle Girls is the country's first and only bar dedicated to female weightlifting. Founded by a young fitness enthusiast who goes by the name of Eri Muscle, Muscle Girls started out as a women's gym, but recently transitioned into the entertainment industry, opening its own unique bar as well as a popular YouTube channel. Photos and videos of the venue started going viral earlier this year, mainly because of its staff, which is made up exclusively of muscular, fitness-loving girls.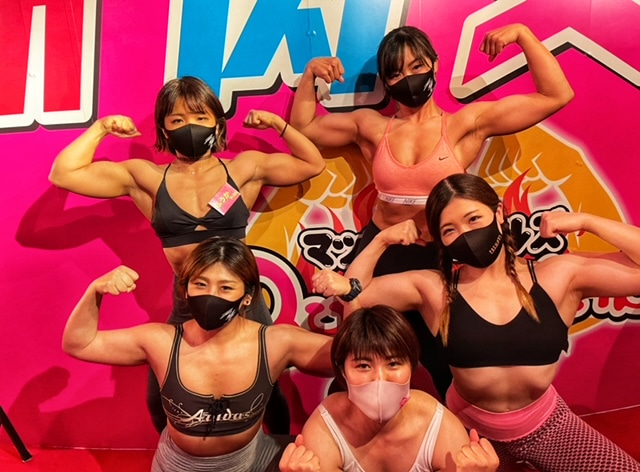 Eri Muscle told Japanese magazine Bunshun that she started going to the gym when she was 19-years-old, as a way to lose weight. She originally focused exclusively on aerobics, but that got boring really fast, so she started weight training as well, which she found more exciting. Soon, she started bulking up instead of getting thinner, but that didn't bother her one bit, as the passion for weight lifting had become much more important.
Now Eri Muscle runs her own gym, which last year evolved into the Muscle Girls Bar, a unique, colorful venue that features both an assortment of alcoholic and non-alcoholic beverages, and gym equipment as decorations and props. But the bar's main attraction is its staff, which consists of young, female fitness-enthusiasts who love showing off their muscles.
Eri Muscle, Yota Muscle, Juriko Muscle and the other "Muscle" girls not only prefer and serve the drinks, but they also put on a show for patrons, flexing their muscles, dancing and working out. Muscle Girls also has a list of activities that patrons can engage in for a fee, including acting as a trainer for the girls, tipping their favorite muscles, getting fed protein shake from a syringe, and taking photos with the girls.
The Muscle Girls bar is only available via reservation, but because of the Covid-19 pandemic, they were forced to interact with their fans via social media, mainly YouTube and Instagram, but according to their website, the venue will once again open up to patrons this month.
Muscular staff has become very popular in the restaurant and bar business. Last year, we wrote about this Thai restaurant that relied on muscular deliverymen to weather the Covid-19 pandemic, as well as about Staneemeehoi, another Bangkok eatery famous for its buff waiters.
Subscribe to our Youtube Channel: