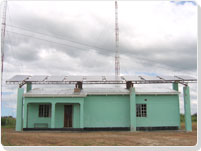 For the last seven years, a team from Su-Kam has been quietly at work in the African nation of Malawi, one of the most under-developed regions of the world. The team's objective – to bring electricity for the first time to the inhabitants of five remote villages : Chigundu, Mdayaka, Eluyumi, Kumbande and Kadzuwa.
The team observed and analysed the conditions in the villages and decided to go in for a hybrid system – a combination of solar and wind energy. The wind speeds in these villages were found to be around 5 metres per second, adequate to generate electricity. Sunshine is also in abundance. The usage of the windmills succeeded in bringing down both the costs of the project and the space requirements of the installations.
Windmills generate electricity through the conversion of mechanical energy to electrical energy. The wind rotates the blades of the windmill. Its shaft is connected to an inverter, which converts the mechanical movement of the blades to electricity.
In each village, Su-Kam has installed 3 wind generators of 4.2 kW each, along with solar photovoltaic modules of 24 V / 150 W, generating 7.5 kW. All told, the systems are generating 20.1 kW for around 150 households in each village.
This unique hybrid system was designed and customised by Su-Kam's in-house R&D, keeping in mind the objective of maximising the use of natural resources like the wind and the sun and the need to make the systems economical, reliable and long-lasting.
Su-Kam took on the project on a complete turnkey basis. All the systems are fully operational and working successfully.As both the sun and wind are renewable sources of energy, Su-Kam's technology and products are once again protecting the environmenteffectively
Subscribe to our Youtube Channel: