The US has suspended a $350m (£213m) aid package to Malawi after the security forces were accused of killing anti-government protesters last week.
A US government agency, the Millennium Challenge Corporation (MCC), said the money was to have been spent on developing Malawi's power sector.
But it had suspended the aid because it was "deeply upset" by the deaths of 19 people during the demonstrations.
The nationwide protests were against the rising cost of living in Malawi.
President Bingu wa Mutharika accused the protesters of committing treason and deployed the army and riot police in three cities – the capital, Lilongwe, the biggest city, Blantyre, and Mzuzu in the north.
Civil groups accused the security forces of opening fire on protesters.
They said bystanders were among the people shot dead.
'Looting spree'
Officials said about 500 people had been arrested over the protests.
More than 250 of them appeared in courts around the country on Tuesday on charges of arson, looting and theft, the BBC's Raphael Tenthani in Blantyre says.
Continue reading the main story
"Start Quote
At the core of an MCC partnership is the expectation that countries maintain a commitment to political pluralism"
Millennium Challenge Corporation statement
Police spokesman John Namalenga said those who appeared in court in Lilongwe had been refused bail.
"These were mostly those we arrested when they went on a looting spree," he said.
Several businesses of people allied with Mr Mutharika were looted during the protests, our reporter says.
The MCC said its aid package – agreed with the government in April – would have reduced power cuts.
Nearly six million people would have benefited, it said.
But it had been forced to put the project on hold because of the violence.
"At the core of an MCC partnership is the expectation that countries maintain a commitment to political pluralism, human rights, and the rule of law," it said in a statement.
Earlier this month, the UK cut aid to Malawi after accusing the government of handling the economy badly.
Mr Mutharika's government recently passed an austerity budget, raising taxes to reduce dependence on aid.
Civil groups which called the protests accuse him of becoming increasingly autocratic and plunging Malawi into its worst economic crisis independence 47 years ago.
Malawi faces acute shortages of electricity, fuel and foreign currency.
An estimated 75% of its population live on less than $1 a day.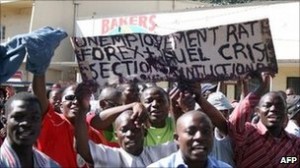 Source : BBC
Subscribe to our Youtube Channel: