The People's Party (PP) led government has said it will put on the shelf the highly publicised Shire-Zambezi waterway project which was a priority project in the Democratic Progressive Party (DPP) government.
The project, once completed, could have seen the country having its own inland port which could have reduce transport cost.
PP Director of Economic Affairs Jerry Jana told Business Times on Monday that the new government will prioritise people first and not projects that are meant to show off.
He said the Shire-Zambezi waterway project is a long term project and can wait.
"We have not had any discussions as a party in regards to the project, but as a party our priority remains projects that will benefit the people.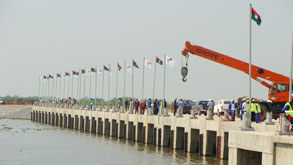 "Long term projects like the Nsanje port will be shelved for a while so that we address issues that need immediate response," said Jana.
He said the waterway project needs to be looked at critically as it also involves neighbouring countries.
Jana said as of now there is still no feasibility study for the project which is a major guidance.
"We need to look at the merits and demerits of some projects. As government we need to discuss with our neighbouring countries especially Mozambique to see if they accept the viability of the project," he said.
He said PP will focus on the Greenbelt Initiative as it has an impact on the rural communities, but it will also have to be weighed.
Jana said there is work to be done on the initiative as it largely involves irrigation.
Jana said the PP constitution outlined its priority economic projects which fall under agriculture, energy, education, health and tourism.
"We want to make things happen in tourism and not just sing songs as has been the case," he said.
Early this year, Minister of Transport and Public Infrastructure Sidik Mia said Malawi government will request the Mozambican government to speed up the feasibility process.
He said they would urge Mozambique to do the study in less than a year as the project benefits both countries.
The US$6 billion project will link landlocked Malawi to the Indian Ocean by opening the Shire and Zambezi rivers for navigation.
Last year the African Development Bank (AfDB) approved financing to the tune of US$3.5 million for the feasibility study which is yet to commence.
Malawi, Mozambique and Zambia are involved in the Shire Zambezi waterway project.
Subscribe to our Youtube Channel: