President Joyce Banda is expected to make changes in the political leadership of the National Assembly as well as changes in the seating plan of legislators following the ascendancy to power of the People's Party.
Speaker of the National Assembly Henry Chimunthu Banda said in an interview on Tuesday he is yet to receive communication from the executive branch of government on the changes ahead of the May 18, 2012 national budget meeting.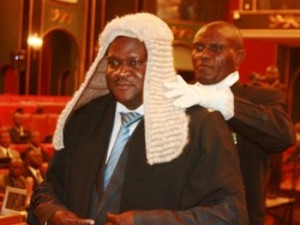 Parliament starts meeting on May 18, 2012 when newly sworn President Joyce Banda is expected to test her popularity in the 193-strong National Assembly.
But sources said the executive is working on the changes following the sudden rise to power of PP which has technically pushed the Democratic Progressive Party (DPP) to the opposition.
"Changes are likely, the president will appoint those she wants to work with," said our source at parliament.
However, Chimunthu said it was too early to speculate on whether the president will appoint a new leadership or not, insisting the issue as of now is the meeting of parliament.
He said apart from debating and passing of the national budget, the House will discuss other crucial issues which will be decided upon by the political leadership of parliament.
"The Business Committee (the political leadership of the House) will meet to decide on other items," said the speaker in a telephone interview on Tuesday from Lilongwe.
The government is also expected to bring bills for debate in the House apart from ministerial statements and question time when back-benchers ask ministers questions on different issues ranging from constituency to national issues.
"We will get further details on government business from the appropriate leadership and ministers," said Chimunthu Banda.
He said parliament came up with the May 18 date after consulting the state president as per the requirement of the Republican Constitution.
There are likely to be changes in the leadership of the National Assembly after People's Party was propelled into power after the demise of President Bingu wa Mutharika who expelled Banda from the party for "making parallel party structures."
The current Leader of the House is minister of Education George Chaponda whislt the government chief whip is minister of Youth and Sports Symon Vuwa Kaunda.
Minister of Information Moses Kunkuyu said in a separate interview that he was not informed of any changes of the leadership of the House or when President Banda would make the changes.
Subscribe to our Youtube Channel: