Opposition Malawi Congress Party (MCP) and Democratic Progressive Party (DPP) on Thursday ganged up in questioning the eligibility of Finance Minister Ken Lipenga to present the 2012/2013 National Budget on Friday.
President Joyce Banda appointed a cabinet committee about three weeks ago to probe alleged the figure fiddling at the Malawi Revenue Authority (MRA) and promised results within a week.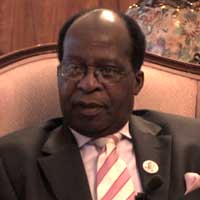 But results are not forthcoming, prompting Dedza North East MP Alekeni Menyani to raise the issue in Parliament using Standing Order 21, saying people would doubt Lipenga's budget to be presented on Friday.
"If this issue is not put to rest now, then the national budget to be presented tomorrow [Friday] will not have credibility," Menyani said.
But Vice President Khumbo Kachali, who chairs a committee of inquiry into the matter, said investigations were underway.
"Since the president set the committee, a lot of work has been done. However, the committee is responsible to the cabinet and Her Excellency [President Joyce Banda]. At an appropriate time the president will update the House on this matter. I would like to urge the house to be patient," Kachali said.
However, other MPs, especially from MCP and DPP, pressed the government side on the matter.
Nsanje Central MP Francis Kasaira wondered why the government fired MRA Commissioner General Lloyd Muhara when investigations were underway.
But Kachali said Muhara's sacking was an administrative issue. A final report on the matter, he said, would be issued.
Lilongwe Mpenu MP Watson Makala Ngozo also wondered why cabinet ministers were probing their counterpart but Kachali still prayed for the MPs' patience.
Some DPP legislators could be heard murmuring, 'Koma budget ikubwera mawa' [But the budget is being presented tomorrow].
Many opposition MPs showed interest to contribute on the matter, with Chitipa North MP Nick Masebo saying the issue would compromise the integrity of the ruling People's Party (PP).
But Leader of the House Henry Phoya said PP's integrity had not been affected.
The matter was closed despite increased interest from the opposition MPs to debate the issue further.
Subscribe to our Channel on Youtube: