A bedroom isn't much without a bed, especially at a boarding school. And if not for a robust group of volunteers, that's what the nearly finished dormitories at Children of the Nations' (COTN) International Christian Academy in Malawi would be—bedrooms without permanent beds. Last week, volunteers involved in the 19th Annual United Way Day of Caring loaded a shipping container with eighty bunk beds destined for Malawi. "We had a hearty ten volunteers who worked tirelessly," says COTN–USA Resource Director Dave Schertzer. "It was one of the fastest loads we've done. They were a great encouragement to us."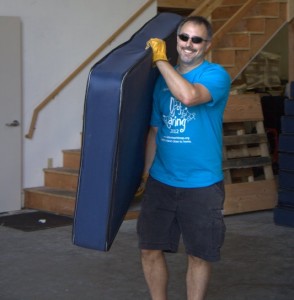 The beds came from the University of Washington's surplus program in Seattle, which provided them at a discounted price of $6.25 each. "They provided an incredible deal because they want to partner with Children of the Nations to reuse the supplies and not see them go into a landfill," Dave says. Sixty-five of the beds will go into the nearly completed boys' dormitories. The rest will be used in the girls' dorms, which are currently under construction and in need of further supplies before they can be lived in. "Our goal is to equip the dorms for under $100 per student," says Dave.
In addition to the folks who loaded the shipping container, the United Way sent nine volunteers to COTN's USA and International headquarters in Silverdale, Washington, to spruce up the grounds by pulling weeds, spreading gravel, and helping with other landscaping duties. "It was truly amazing," says COTN–USA Facilities Manager Jim Stuart. "We get so much done when there's many hands to do the work."
This is the second year in a row that United Way volunteers have taken time out of their work week to help COTN. "The United Way Day of Caring provides a great opportunity for regional businesses to get connected with us and [for COTN] to be able to introduce people to who we are and what we're up to," says Jeff Davis, COTN–USA's Senior Director of Administration.
Some of the volunteers were new to COTN; others had been involved before. But every one of them had a positive impact on the children COTN serves. "It was the most rewarding volunteer experience I've ever had," says Jeff Tellinghusen, one of the volunteers who loaded the shipping container. "It was just so amazing to think of the impact that stuff will have in Malawi."
Subscribe to our Channel on Youtube: