Lilongwe based musician who has proven to be a force to reckon with on the local scene when it comes to dishing out the best of local music and lyrics that resonate well with the general populace as well as setting the stage ablaze every time he is performing, Skeffa Chimoto, is back.
This time around he has released an album titled Chikondi.
The album, of which some of its songs have already started enjoying airplay, promises to be another bomb from the musical sensation as it cuts across various issues in its themes with Skeffa still maintaining the local reggae fusion that has come to be his trademark.
In the album, Skeffa has made a statement on why he still is the darling of the fans if the blending of the instruments and the message is anything to go by.
One track from the album, Chinamuluma chakuda, has already started gaining its own fans as it chronicles the fears people have towards love basing on past experiences.
The album, which is his fifth, has been recorded at his own studio in Lilongwe.
Currently, four songs have been put on promotion and they include Chinamuluma chakuda, Dalitsani Okondedwa, Nenereni and Ndilandireni.
Chimoto's fifth album comes after a success of his previous album which saw him gaining admirers not only on the local scene but also beyond the borders, especially Zambia, such that he had to work with one Zambian artist at some point.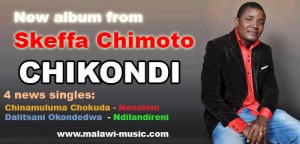 Subscribe to our Youtube Channel: