An 18-year-old Romanian teenager, Aleexandra Kefren who went viral on the internet after she appeared on 'This Morning' show in November last year, to announce that she intend to sell her virginity to the highest bidder after she stated she already had an offer of £1.7million from a wealthy businessman, has finally sold it.
The aspiring model from Bucharest, in Romania claims she has sold her virginity to a Hong Kong businessman for £2million. Despite her family threatening to disown her.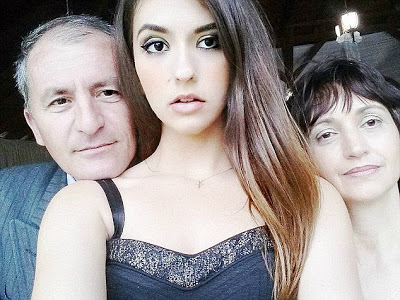 Khefren said that she has booked a hotel and is in contact with the businessman, who she was connected with through (Cinderella Escorts), a website based in Germany that will take 20 percent of the £2million bill.
The teen did not tell her parents what she was doing and they exploded with fury after discovering her plan.
Khefren said that the businessman is 'very friendly' and that though she's spoken to him, when she meets him in person for the first time, she will be accompanied by Cinderella Escorts staff
She said she is curious about sex and that she hoped the man who takes her virginity will wine and dine her prior to going to bed.
'We will go to a hotel in Germany, have dinner and then it will happen,' she said last year. 'I am very curious about how sex is. I have not experimented. I don't know what is it.'
While most people would consider selling her virginity for money, Khefren insisted she was not a prostitute.
Last year, Khefren's father Toni and mum Elena begged her not to go through with the sale of her virginity.
Khefren claimed last year that she was selling herself to raise money for her family who faced eviction from their home.
She also said the money would be used to fund a college place, with Oxford University a favoured choice.
See her pictures below
Subscribe to our Youtube Channel: