Two men have been fined for fighting over a 43-year-old woman at the court premises.
The incident is said to have happened on Wednesday in Ghana at the Accra High Court premises.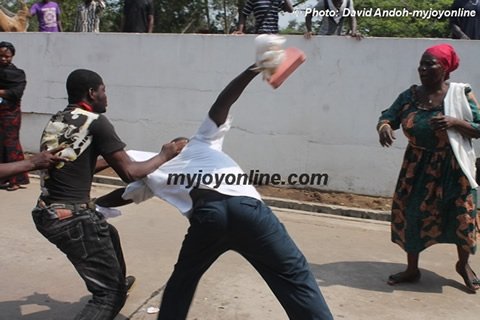 Kofi Atakora, a former boyfriend of the woman and George Sefah, the current boyfriend of the woman, were found guilty of disturbing the peace in a public place.
They will serve 20 days in jail if they fail to pay a fine of Gh¢ 120 each, which is equivalent to Mk20,000.
The court had also found Atakora guilty of causing harm for pouncing on his former girlfriend during the fight.
The court fined him Gh¢1,200 on the charge of causing harm in default of 2 months jail sentence.
According to the country`s local media, Atakora 42, was in a relationship with the woman, Elizabeth Darko, from 2004, until they broke up in 2008.
According to the prosecutor, Chief Inspector Kofi Atimbire, the two former lovers had not been on good terms since the breakup.
In 2013, Atakora sued Elizabeth at the High Court on the basis that she was still in possession of some property the two acquired during their relationship.
On February 14, 2014, Elizabeth, accompanied by her new lover, Sefah, 52, appeared before the High Court to answer the claims levelled against her by Atakora.
Elizabeth and Sefah waited at the corridor leading to the courtroom since the court was yet to start business.
"Atakora who was in an angry mood went to them and pointed his finger at Sefah, leading to a fight between the two,'' Chief Inspector Atimbire told local media.
He revealed that Atakora got a red eye while Sefah suffered a cut on his lips as a result of the fight.
"Elizabeth attempted to separate them, but Atakora pounced on her, hitting her continuously with his fist. Elizabeth sustained a deep cut on her forehead,'' the prosecutor stated.
Chief Inspector Atimbire added that a report was made to the Domestic Violence and Victim Support Unit of leading to the arrest of Atakora and Sefah
Subscribe to our Youtube Channel: