Following the rise cases of the novel Coronavirus in some government offices, government has temporarily closed Capital Hill for disinfection.
In a press statement signed by deputy Chief Secretary to the government Janet Banda, the ministry of health will start disinfecting the government offices starting from July 24 at noon.
According to Banda, this is to ensure that civil servants are continuing working in a safe working environment.
The statement further advised that all civil servants should be working from home beginning Friday, July 24 afternoon.
'ÄúAll controlling officers are thereby requested to ensure that they make all the necessary arrangements with their office Superintendents or the custodians of office keys to be available to facilitate the disinfection exercise,'ÄĚ reads part of the statement.
The statement added; 'ÄúAll civil servants who are providing essential services as categorized under the Coronavirus Prevention, Containment and Management Rules (2020) and those who were selected to perform critical functions in their Ministries, Departments or Agencies will therefore be expected to resume for work on July 27, 2020'ÄĚ
The statement has also assured all personnel working at Capital Hill that all preventive measures in the previous Circulars on Covid-19 continue to apply.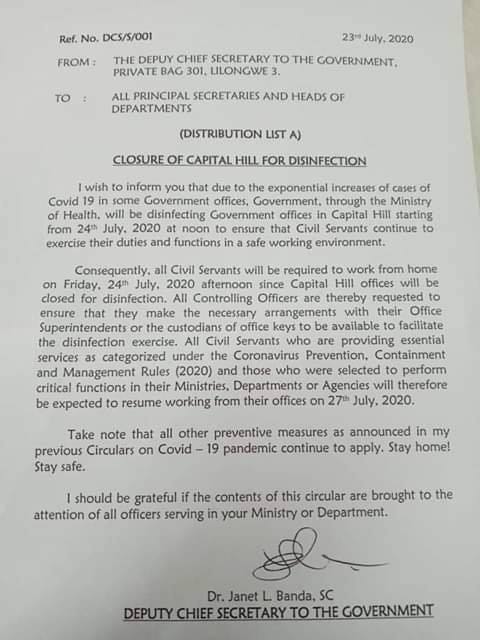 (Visited 7 times, 1 visits today)
Subscribe to our Youtube Channel :
Follow our Instagram