A South African Amazulu FC football player has put the club under disrepute after he was caught enjoying quality time with a lady in the bushes.
The player was caught on camera by neighbors who use the same route and heard sounds coming from the bushes.
According to the person who shot the video, he said he was walking home and could hear sounds coming from the bushes thus went to investigate.
"I was worried about what might be going on behind the bushes so I took out my phone for evidence. I was shocked to see him (name withheld). He is like a hero in the village and I last saw him over the weekend".
The player involved in the scandal is believed to be on a week's leave and had gone to visit his family inThohoyandou in Limpopo.
Amazulu is currently second in the DSTv premier league behind Mamelodi Sundowns and enjoying a good season.
The player, who was clad in Amazulu regalia quickly, realized his mistake as the young lady in the video can be seen fleeing the scene.
Added the videographer: "It is really disappointing what he has done because I  know he has a yellow bone girlfriend in Durban who he brings. What's more disappointing is the fact that I know he can afford a lodge. Not sure why he decided to use the bushes as his choice of accommodation."
Efforts to get a comment from the player remained fruitless and Amazulu management could not be drawn to comment at the time of going to print.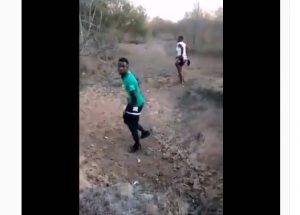 (Visited 1,643 times, 1 visits today)