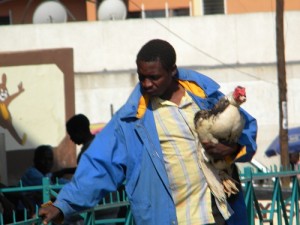 My adventure in Malawi began a few weeks ago. I am from Italy and I used to live in London. The landscape of Malawi is amazing, the sky is more and more blue and the red dust cover the roads, the cars and the shops. In Malawi you can see people walking all day long, the same way it is in London. They walk up and down in the city, going to work, shops or going home. The people of Europe and the people of Malawi are always busy doing something, but the difference between them is in their faces.
If you have been in Oxford Street, London at 5 pm and took the train you can see the people going back home from work. If you look at their facial expressions, they look fed up with their lives. In Malawi there is no commuter trains, so when the people go back home from work, they take a mini bus which is always over crowded so they usually walk. They walk miles and miles from the cities to their villages in dusty roads, under the blazing African sun, carrying baskets full of water, food or animals, but if you take a look at their face, even when there is not water or electricity, they are smiling.
These are the faces of Malawi.
By Serena Faverio
Subscribe to our Youtube Channel: