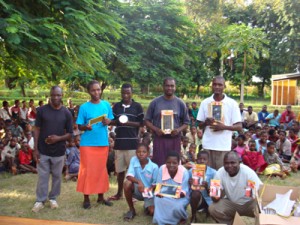 As part of an ongoing commitment to support community projects, Economic Zones World together with its subsidiary Gazeley and its partners has raised $30,000 for a community solar energy social enterprise in Mua, a village in Malawi.
The funds raised were used to help launch the 'Business in a Box' program set up by Brendan O' Shea, an associate of Gazeley, in partnership with ToughStuff, a social enterprise organisation based in Mauritius.
ToughStuff has developed a set of solar powered products, including lighting and battery chargers, to help provide affordable and sustainable solutions beneficial to those without access to electricity, a common issue in the South African nation of Malawi, considered one of least developed and most densely populated countries in the world.
The eco-friendly lighting products are being sold to the villagers for a nominal charge or in exchange for some light work done in a vegetable garden that was specifically cultivated for the benefit of the people of Mua. This approach has led to the development of an extensive garden which has seen contributions from people of all walks of life in Mua including students. The lighting project will enable village entrepreneurs to operate their own profitable, sustainable micro-enterprises which generate enough income to provide a safe and healthy livelihood. Any money made from the sale of the solar products is being utilised to give courses specifically related to preserving the environment
Mrs. Salma Hareb, Chief Executive Officer, Economic Zones World said: "As a responsible and socially committed global organization, we are very proud of this initiative because of its community-based development approach. By providing people access to reliable and affordable energy, we are not only encouraging sustainability but we are also building the drivers for responsible business and nurturing socially-oriented companies."
"EZW's CSR policy encompasses initiatives to conserve, sustain and renew the environment, to encourage sustainable socio-economic development of the community and to improve the quality of life of the people living in the areas in which we operate. In order to integrate these social values and commitments into our overall business model we have recently launched a CSR Policy manual, which outlines EZW policies and serves as a reference for all our stakeholders," she added.
Pat McGillycuddy, Managing Director, Gazeley Limited, said: "The project is just one in a long line of CSR initiatives we have supported. The project is having a huge impact on the quality of life for the people in Mua and with sustainability and energy efficiency at the heart of the project, supporting Brendan in his mission was a natural decision for Gazeley."
Brendan 'O Shea, who has dedicated years in Malawi to build a movement of self-empowerment and community-led solutions said: "The solar energy project has had a big impact on the lives of people in the village and I am very grateful for Gazeley's support. Our first port of call was to our local school for deaf children. They frequently have problems with electricity, and darkness is their greatest fear as it means they can't communicate in sign language. There was great dancing and commotion when they received over 90 solar lamps. These will be used in the children's hostels and the teacher's houses."
He added: "We have had secondary school students who have done some manual work so as to acquire the lamps. They can study at night, especially helpful when exams are near. Many of the teacher's houses are also without electricity so they also availed of the solar products. It encourages them as it is often difficult to get teachers to stay in rural areas. There are many people who have small shops which stay open until the evening. These are sometimes also administered by women. They have found the solar lamps very helpful in promoting their business. What a wonderful gift to give the people of Mua."
Gazeley is a global provider of sustainable logistics space. To date it has built over 60 million sq ft (5.6 million sq m) of quality warehouses and distribution parks across the globe.
Subscribe to our Youtube Channel: