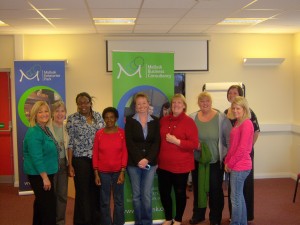 Mallusk Enterprise Park was delighted to host a Ladies Business Coffee Morning in honour of a guest from Malawi, Mrs Victoria Chihana. The Church of Central Africa Presbyterian (CCAP) has sponsored Mrs Chihana's visit and she was escorted by local business woman,Mrs Margaret Myers.
The ladies who joined Mrs Chihana for a coffee and exchange of business practices were all involved in running their own businesses or were involved with their partners in business.
Mrs Chihana runs the Women's Empowerment Programme in Malawi that trains local women to set up their own small enterprises and also gives them seed corn loans to help with the initial set up costs. She explained to the ladies that " A loan of £60 was given to 4 women at a time through the church and then there are follow up meetings and they re-pay their loans and can ask for a further loan of £30. These loans, when repaid are used to set up other enterprises and to date, since 2002, over 4000 women have now come through their doors and set up in business."
Mrs Chihana herself runs her own business rearing 2 day old chicks and selling them on at 7 weeks. Most of the women in Malawi who are on this enterprise track can now feed their families and also provide the fees for their children's education.
"The women form self-help groups and decide who should get further loans if their business is doing well and, on the other hand, provide help to those who are finding it difficult to run a profitable business", explained Mrs Chihana. " I am so impressed with what I have found here at Mallusk Enterprise Park, the women I met this morning are inspirational and I can take back new ideas for our women back in Malawi."
Mallusk Enterprise Park's CEO, Melanie Humphrey, thanked Mrs Chihana for taking time out of her busy schedule to meet our women in business, "It is both an honour and a privilege to hear how over 4000 women are setting up their own business in Malawi and are making such a valuable contribution to improving the health and well-fare of their families. Likewise, our women in business are making a significant contribution not only to our families but to our local economy."
Subscribe to our Youtube Channel: