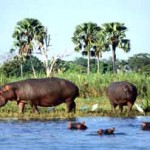 Lilongwe – Malawian youths grow into adulthood and old age without appreciating wildlife because of the devastating effects of climate change, Traditional Chief Kambwiri of the lakeshore district of Salima in the central region has said. Kambwiri said that during his youth days leopards, warthogs, lions, elephants and some species of fish and aquatic wildlife were part of a villages' every day life experience. He was speaking to journalists who visited his village on a climate change tour. Kambwiri said the country had lost its environment and biodiversity and asked government to take the necessary measures to combat the increasing trend of loss of forestry and failing rainfall which has left the country with declining yeilds. "There are now a lot of diseases that have come because of climate change, "he said adding, "over population too has contributed to loss of forestry, loss of medicinal herb and soil infertility." His village subject 24 year old Patuma Kaponda asks the government to provide the village with solar energy and wind driven power to pump water from the nearest river, Lilongwe, situated about 15 kilometers away from the village.
Kaponda a mother one, said that women were particularly feeling the pinch of climate change as they are responsible for drawing water nd repararing food for their families. Journalist Union of Malawi President Maganizo Mazeze asked the villagers to approach the District Council and demand to tap from the Local Development Fund (LDF) to access their energy needs. Salima District Agriculture Crops officer Jayaka Kipandula said the district's water table was high and that pumping water from the ground would not be difficult. Malawi's economic development and social well-being depends on the country's natural resource base for water provision, energy, food security and exports. Over 80 per cent of the Malawian population is dependent on agriculture for their incomes and broader livelihoods. The dependence on natural resources is further exemplified by a recent study undertaken by the UNDP-UNEP Poverty Environment Initiative (PEI), where it estimated that unsustainable natural resource use costs Malawi US$191 million, or 5.3 percent of GDP each year.
The largest costs result from the loss of agricultural productivity as a result of soil degradation, as well as deforestation in catchments to supply firewood and charcoal, unsustainable fishing and reduced economic activity caused by indoor air pollution. Mazeze noted that other than poverty, capacity and governance gaps with respect to natural resource management, population pressures is a critical variable impacting on natural resources and the environment in country. "For example, in Malawi, women (particularly single women) and female headed households, as well as children, the elderly, and other poor socially marginalized groups can be particularly vulnerable in various ways," he said adding, "These groups are also more likely to inhabit areas at greater risk, including fragile environments". Women are particularly vulnerable, not only because they tend to be poorer and form the majority of small scale farmers, but also because they are responsible for food preparation, water and fuel collection, and caring for the sick – burdens which are increased by climate change. However, chief Kambwiri pointed out that women are key agents of change in their communities and are central to local mitigation and adaptation efforts.
Subscribe to our Youtube Channel: