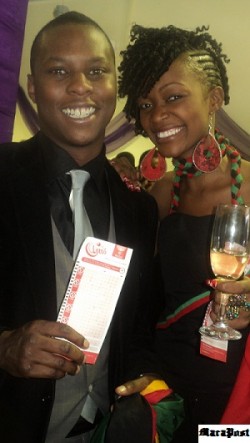 BLANTYRE—Zimbabwe's Munya Chidzonga and Miss Malawi Faith Chibale were the celebrities at the launch of National Lotteries Group (NLG) on Monday in Blantyre.
Munya, of the Big Brother fame and wearing a black suit, and Chibale, clad in a skirt and blouse of Malawi national flag colours, were the centre of attraction at the launch, with Munya saying he was "humbled and honoured" to grace the occasion.
"Out of all the celebrities in Africa, I was invited to Malawi which I take as my second home," Munya said.
Chibale is the ambassador of the NLG.
Munya is a star in a film called the Gentleman, which was premiered in Malawi recently, while Faith makes a cameo appearance in the film shot in Zimbabwe.
Tourism and Culture Minister Daniel Liwimbi was the guest of honour at the function, also graced by the Group's CEO Allen Cheng.
The Group was expected to launch its instant win games Lotto 6/36 and Scratch N' win on Monday in Blantyre, where a lucky winner should go home K10 million richer.
The Maravi Post.
Subscribe to our Youtube Channel: