It's often fascinating to hear from where an activist found their dedication to a cause.
I've interviewed a young victim of molestation who openly shared her story in the hopes of letting abused children know that they are not alone. There was a bereaved mother who founded an experimental drug rehabilitation centre after her son overdosed while backpacking in Thailand. And I've met plenty of convicted criminals who now work to prevent youth from making the same mistakes that they did.
More recently, in Malawi, several women carrying the HIV/AIDS virus bravely broke cultural taboos and let their names and stories be publicized in order to spread awareness of the disease.
Another favourite inspirational story I've enjoyed since arriving in southern Africa is that of Malawi's vice president, Joyce Banda.
"I have worked in the area of economic empowerment and education all of my adult life," she told me during a recent interview at her office in Blantyre. "For me, it is about poverty eradication."
Growing up with a police officer for a father, Banda has spent most of her life in the city, she began her story. But for many years, her grandmother forced her to spend weekends in her family's village, lest that be where Banda's fate one-day take her.
"So I had a very good friend in my village whose name is Chrissie," Banda said. "She taught me everything about village life and she was brighter than me in school."
Both girls completed their primary studies, the vice president continued. "And she was elected to go to Saint Mary's and I was elected to go to Providence. She went one term, but her parents couldn't raise the six pounds that we needed for her to go the second term, so she dropped out and went back home."
That was when the girls were 16 years old, Banda recalled.
"I went on, finished, and now I am vice president of this land," Banda said, matter-of-factly. "She is locked up in the village, in poverty. And it makes me angry when I see her. I say, 'Why am I here, and she is not?' For that reason, I decided that I was going to spend my life working to economically empower women."
Banda, the country's first female to hold an office as high as vice president, has since gone on to help Chrissie start a bakery, she's establish schools and orphanages that focus on educating girls, and Banda continues to financially support hundreds of young women's educations.
"Chrissie is very bright," Banda said. "But she lost out; I cannot support her education. But I can spend my life supporting people like her….So for me, again, it is the eradication of poverty, focused on education, health, and the economic empowerment of women."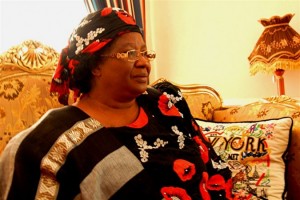 Subscribe to our Youtube Channel: