MMD presidential aspiring candidate Dr. Situmbeko Musokotwane has urged the Patriotic Front (PF) government to state clearly whether the fuel which was given to the Malawian Government was a gift or will be paid for.
Dr. Musokotwane says that failure by the government to clarify its position on the five million litres of fuel would mean that the PF was corrupt.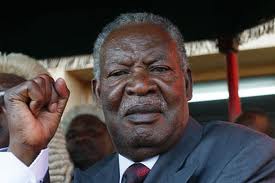 He told journalists in Livingstone on Wednesday that it was unfair for the PF government to accuse the former ruling party, MMD of being corrupt when President Michael Sata's government has not stated its position on the issue of the fuel.
Dr. Musokotwane who boosted of being an economist with a rich CV and the right candidate who can reedmen the MMD accused the PF of trying to kill the former ruling party with its fight against corruption.
He further added that it was untrue that the MMD was corrupt as it is being accused by the PF but that it is individuals who are corrupt and not the party.
Dr. Musokotwane who is on a campaign tour of Southern Province is accompanied by losing independent candidate for Livingstone constituency Ruth Dante who is acting as his press secretary.
In the morning, Dr Situmbeko held a closed door meeting with the provincial executive committee members led by the Provincial Chairman Edger Keembe, the Livingstone district executives and constituency executive officials before he addressed journalists.
During the question and answer time, MMD Provincial Chairman Edger Keembe accused some media houses of being government vuvuzelas.
Subscribe to our Youtube Channel: