Malawi's President Joyce Banda is expected to pay a two-day working visit to President Ellen Johnson -Sirleaf here on Saturday and Sunday April 28-29, the Executive Mansion announced Monday.
Though details of her trip have not been made known, President Sirleaf upon the inauguration of Banda expressed optimism about women's role on the continent during a BBC interview.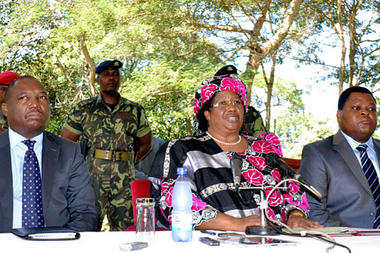 Joyce Banda, who has made history becoming Malawi's first female president and only the second woman to lead a country in Africa, has a track record of fighting for women's rights.
She took power over the weekend following the death of 78-year-old President Bingu wa Mutharika, who died in office after heading up the southern Africa country since 2004.
Mr Mutharika's decision to appoint her as his running mate for the 2009 elections surprised many in Malawi's mainly conservative, male-dominated society – which had never before had a female vice-president.
Equally surprising was her decision to publicly stand up to her boss – by refusing to endorse his plans for his brother, Foreign Affairs Minister Peter Mutharika, to succeed him as president in 2014 when he was due to retire.
She was promptly thrown out of the ruling Democratic Progressive Party – and subjected to daily doses of derision at public rallies and on Malawi's state airwaves.
A senior ruling party official openly said Malawi was "not ready for a female president", while First Lady Callista Mutharika said Mrs Banda was fooling herself that she was a serious politician – saying she was a mere market woman selling fritters.
"She will never be president, how can a mandasi [fritter] seller be president?" Mrs Mutharika said.
Subscribe to our Youtube Channel: