Malawi Congress Party (MCP) president John Tembo last week met President Joyce Banda for the third time within a month, heightening speculation of his impending appointment as Second Vice-President.
This appointment will most likely not be welcome as most analysts and many Malawians believe the cabinet is already too large and the 2nd vice president post is redundant.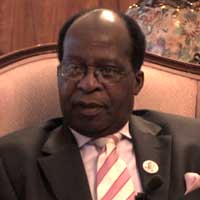 John Tembo's history doesn't help him either, in his position as one of the inner circle for dictator Hastings Kamuzu Banda and his reign as President of MCP where he has not allowed any dissenting views in the party and has now banished presidential aspirant Chris Daza.
But Tembo says even if he were appointed Second Vice-President, accepting the position would not kill the opposition.
"It is not where you sit that should make one's opposing views. We oppose issues and programmes and not people or for the sake of opposing. Even if the MCP joins government, it will continue providing opposing views where it does not agree [with government]," he said in an exclusive interview with The Nation at his Area 10 residence in Lilongwe on Monday afternoon.
During the interview, Tembo confirmed having met Banda in Lilongwe at her invitation last Friday morning.
But Tembo said he is not aware of "any intention" to appoint him Second Vice-President.
On Sunday, Tembo, who attended a fund-raising Paper Sunday at Waliranji CCAP Church in Mchinji, later told a rally he will stand and defend the People's Party if "some elements of the past" move to frustrate Banda.
"What I have said publicly is that the People's Party policies and those of Malawi Congress Party are similar. Her Excellency, when she was vice-president, stood with us in opposition when we faced challenges against the then regime; therefore, I am reiterating my support to the government of the People's Party which has always been there," he said.
Tembo has met Banda at her former residence in Area 12 in Lilongwe and later at Mudi Residence in Blantyre before Friday's meeting at Mtunthama State Lodge in Lilongwe, after which he has gestured strong support towards the current administration.
"I asked people to give her [Banda] time to correct the mess. So far, she has performed very well and we have not differed in terms of issues being addressed. That is why I have spoken of MCP supporting PP on issues," said Tembo.
Banda on Friday told journalists in Lilongwe that she is yet to follow up on the matter after Tembo's pronouncements.
(Visited 30 times, 1 visits today)