Malawi Parliament on Thursday repealed the Civil Procedures Amendment bill back to its original version.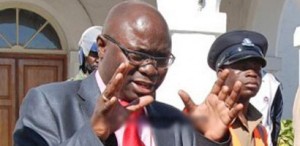 On July 8, 2011 the Democratic Progressive Party led government changed the law to bar exparte granting of injunctions against government or any public officers.
This according to Minister of Energy and Mines Dr. Cassim Chilumpha was inconsistent with some sections of the Republican Constitution.
Confessions, apologies and swearing reared their heads in the discussion on the Civil Procedure ill, popularly known as the Injunctions Bill Thursday.
Minister of Justice and Attorney General, Mr. Ralph Kasambara, told the august house that the current government decided to table the bill repealing the Injunction law due to an alleged public outcry.
Malawi Congress Party spokesperson on legal matters, Mr. Alekeni Menyani, said the fact that the law has been repealed actually vindicated its earlier stance that the law was against the will of the people.
When the bill was introduced by the then ruling Democratic Progressive Party last year, the MCP and United Democratic Front MP's stormed out of the house in protest.
Mr. Symon Vuwa-Kaunda, a former cabinet minister in the DPP regime was also surprise when he supported the bill.
"I totally support the repealing of the Injunction law. This is a bad law. You will recall Mr. Speaker Sir, that am one of the then Ministers heavily hit by the passing of this law. On July 20 2011, some people torched down my property in anger over the passing of the bill last year," said Mr. Kaunda.
This attracted boos from the government side.
Despite most MPs supporting the bill, Leader of DPP in the house Dr. George Chaponda maintained that the changes made by the former regime were in line with the realities in the courts of law.
"Very many times chiefs are not installed in the villages out there because of the various injunctions obtained exparte.
"Mr. Speaker Sir, when we are in this house we say we represent the people. Am aware that people out there are of the view to maintain the bill because it brought solace to many," maintained Dr. Chaponda amidst murmuring on the background.
The bill had been labeled a "bad law" by the then chairperson of the Committee of Parliamentary Legal Affairs Mr. Henry Phoya now leader of the house and this resulted in the DPP leadership booting him out of the party.
Civil society organizations also obtained an injunction arguing that the law could be used to deny citizens their civil liberties.
(Visited 27 times, 1 visits today)