The Malawi Revenue Authority (MRA) in Mzuzu has released goods belonging to the late Denis Katsache after angry relatives dumped his casket at the MRA offices following his sudden death.
According to reports, Katsache died at some lodge after he was told by Mzuzu MRA officials to pay extra K4 million for his goods after he already paid at Songwe Boarder.
This prompted his family members and colleagues to invade at Lilongwe MRA offices where they dumped his casket while demand money amounting to K3 million which the deceased had already paid at Songwe boarder.
In a press statement seen by Face of Malawi reporter, MRA said it is saddened by the passing of Katsache and 'Äúthe subsequent display of his casket at Mzuzu offices'ÄĚ
The statement further added that MRA has since released goods belonging to Katsache pending further engagements with his family and traders on the matter.
However, the statement was quick to clarify some of the misunderstandings that erupted in the course of the incident.
According to the statement, Katsache presented himself as Wakisa Mwenifumbo.
'ÄúThe late Katsache had imported a truck full of beverages through Songwe Boarder Station in Karonga and submitted a declaration that he was importing 500 cases of Embe drink in respect of which he paid Custom duty amounting to K2, 755, 011. 90,'ÄĚ reads part of the statement.
During interception by the Authorities Flexible Anti-Smuggled Team (FASTI, it was later revealed that the deceased had committed two Custom offenses which were misclassification and under-declaration.
According to the statement, Katsache was importing Azam Energy drink and not Embe as communicated of which Azam Energy Drink attracts 20 percent import Excise adding to that during physical examination, the truck had additional of 300 cases of the drink.
According to the statement, the matter has been solved and the family has left the MRA premises.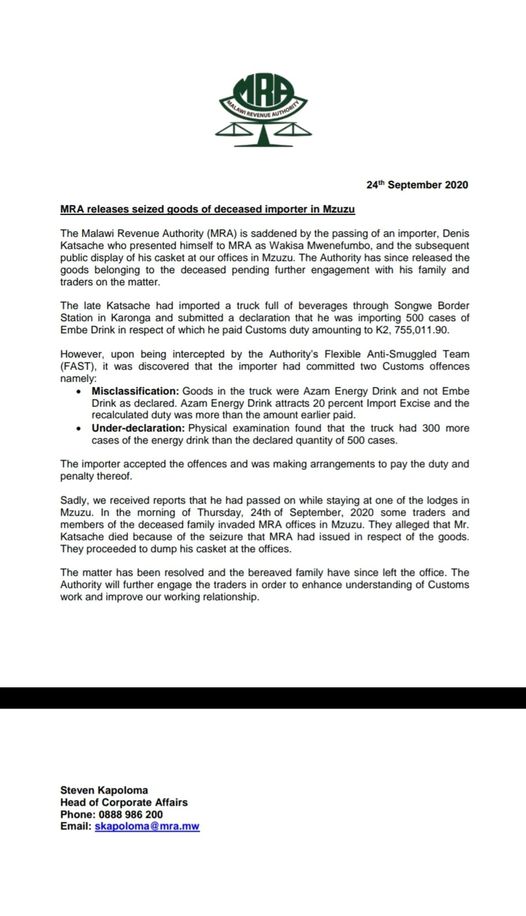 (Visited 1,004 times, 1 visits today)
Subscribe to our Youtube Channel :
Follow Us on Instagram