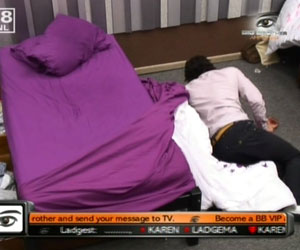 Wendall and Vimbai play wrestled on the bedroom floor just before lights out early Sunday morning.
Vimbai and Wendall, who are quite chummy, found the time to goof around as their fellow Headsmates watched. Vimbai threw her long legs around her country mate and asked him to carry her to the couch. She clung to him and refused to let him go, prompting an amused Vina to tell the two how suspicious their actions looked from where she was sitting. The two then took it upstairs and rolled around on the bedroom floor. Wendall – who has ripped abs – pinned Vimbai to the ground while she giggled and had the time of her life. Later, Vimbai hopped into his bed and snuggled up to him but then went back to her own bed about an hour later. This morning, Wendall woke up with a smile on his face, while sexy Vimbai took a shower and put make up on.
Vimbai has told some of her fellow Heads girls how she has a crush on Wendall. Subtle sparks fly between the two Zimbabweans every time they interact and it seems Wendall, who was a bit closed off, is a bit more open and relaxed around Vimbai. Is a romance blossoming between these two? Vindall anyone?
This week you get to save Zeus, Hanni, Vimbai, Wendall, Lomwe, Millicent, Felicia or Sharon O. Vote now to save your favourite Housemates. Click Here to do so! Let your voice be heard!
– By SereNgeti
(Visited 13 times, 1 visits today)
Subscribe to our Youtube Channel :
Follow Us on Instagram