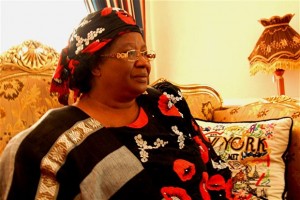 The Malawian government's mysterious decision to delay the announcement of President Bingu wa Mutharika's death by two days was the consequence of a plot by his brother, Peter, and allies from Mutharika's Democratic People's Party (DPP) to prevent Vice-President Joyce Banda from becoming president — an act that would have subverted the Malawian Constitution.
Mutharika died on April 5 but the news was only announced on April 7.
A lack of political will caused the plot to fail and analysts and law-makers say Banda now has little to fear from the Mutharika clique as their supporters began crossing the floor to Banda's People's Party in numbers early this week. Banda created the party two years ago after being kicked out of Mutharika's party.
"It's a stampede actually — Banda can't keep up," said Joke van Kampen, a Dutch journalist working in Malawi. "On Tuesday, 40 members of Parliament declared their defection from the DPP via the radio after they were refused access to the president."
According to political analyst Dr Wiseman Chirwa, Banda's greatest challenge as she serves out the remainder of the presidential term before elections in 2014 will be "the management of the DPP exodus to the satisfaction of ordinary Malawians".
"Banda's People's Party did not have a single parliamentary representative until this week and now finds itself in the odd position of being in power without having won an election," he said.
"Thanks to section 65 of the Constitution, which allows independent parliamentarians to cross the floor, Banda's power base is growing. The problem is, it isn't just independent parliamentarians that want to join her — DPP cabinet ministers and parliamentarians want to jump ship too, but section 65 prevents any member of Parliament elected on a party ticket from doing this, unless they forfeit their seats."
Chirwa said there were three key problems associated with the exodus from the Democratic People's Party.
"Firstly, President Banda must be sure she is in line with the Constitution when she invites parliamentarians to join the People's Party. Secondly, she needs to … gauge whether the people she takes on are going to stick around come the 2014 elections. Thirdly, and perhaps most importantly, she needs to balance her need for parliamentary representation against the desire of many Malawians to see DPP officials made accountable for what has happened since 2009."
The former South African ambassador to Malawi, Tom Wheeler, said Banda was now "doing as all new, insecure leaders do — she's carving her most dangerous opponents out of powerful positions".
Banda also faces the task of kick-starting a crippled economy. Malawi's only sources of forex are tobacco, cotton, sugar, coffee and tea, all of which have been subject to falling prices on world markets. "In his time, Mutharika rejected the International Monetary Fund's suggestion that the Malawian kwacha needed to be devalued," said Dalitso Kubalasa, executive director of the Malawi Economic Justice Network.
"Few in Malawi would disagree that the IMF is right in this instance, but if Banda now takes this decision, there is the possibility that the devaluation will push already runaway inflation into hyperinflation, as happened in Zimbabwe in 2008."
Subscribe to our Youtube Channel: