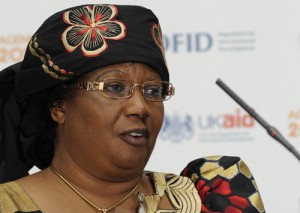 APA Lilongwe (Malawi) The Malawi High Court sitting in Lilongwe on Wednesday granted Vice President Joyce Banda, now expelled from the ruling party, an injunction that the security motor vehicles which were snatched by police should be returned to her.
President Bibgu Wa Mutharika ordered the security forces to take away motorcade from Vice President Banda with no reasons.
But the Vice President rushed to court for a stop order to the motorcade through lawyer Wapona Kitta.
Speaking when granting an injunction, Judge Renzine Mzikamanda ordered the government to return the vehicles to the Vice President.
In addition, he said, the court has granted Leave for Judicial Review. "The court will review the decision made to withdraw the motorcade for the VP."
The relationship between President Mutharika and the Vice became worse in December last year (2010) after the ruling Democratic Progressive Party (DPP) expelled Banda as a member of the party for allegedly positioning herself for the 2014 presidential polls.
(Visited 28 times, 1 visits today)